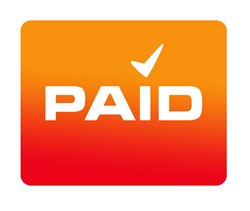 We're very proud to have helped over 50,000 people with their short term cash flow and tax requirements since we first launched back in 2009.
(PRWEB) February 06, 2014
PAID (http://www.paid.com.au) is a first of its kind service in Australia, speeding up the process from approval to the money reaching its intended destination, the biller, by cutting out the middleman.
Surveys of why existing customers borrowed small amount credit showed that around 40% of them used the money to pay a bill. This led to the team at PAID International racking their brains to work out not only the most efficient process but one which could assist even more Australians countrywide.
With the cost of utility bills rising and the impact of regular "large sum" bills such as rates or rego, PAID helps ease the pinch by paying the bill on time and enabling customers to budget for and spread the repayments over a longer period.
For those people whom the bill arrives just a few days early, PAID offer an early repayment incentive, waiving all monthly credit fees if repaid within the first 30 days. With some billers offering "pay on time" discounts, this means using PAID may – depending on the amount of the discount and/or any late fees charged by the biller – even be slightly cheaper than paying just a week late.
With positive credit reporting being in force from March this year, paying your financial commitments on time could have a bigger impact than ever before.
PAID International CEO, Tim Dean, explains: "The introduction of positive credit reporting means being just a few weeks late on credit payments may negatively influence a customer's credit score, affecting future access to credit. With PAID covering your BPAY® bills, it enables customers to budget and cover the essential credit payments to protect their credit rating".
The PAID product was quietly launched on 8 January 2014, allowing the team to respond to feedback from customers on the process and the product itself. Having listened to the feedback, PAID is about to launch with a bang with a nationwide TV campaign supported by large bus adverts in most major cities.
Tim Dean continues: "We're very proud to have helped over 50,000 people with their short term cash flow and tax requirements since we first launched back in 2009. We believe the PAID bill advance offers another avenue to the Australian consumer which is significantly more efficient and is probably the most responsible form of borrowing available in Australia today with every cent reaching its intended destination and no room for overflow".
Indeed, PAID excludes paying credit or gambling repayments via BPAY®.
To read more about how PAID may help you or to get your BPAY® bill paid within 24 hours of credit approval* go to http://www.paid.com.au today.
*PAID is a trading brand of PAID International Limited ACN 137 044 949, Australian Credit Licence 390999. PAID is a credit product and credit fees and charges apply. All applications are subject to PAID International's credit policies and assessment.
BPAY® payments are facilitated by Emerchants Payment Solutions Limited in its capacity as an authorised Payer Institution Member (PIM) through Heritage Bank Limited (BPAY® member).
BPAY® Registered to BPAY Pty Ltd ABN 69 079 137 518
About PAID International
PAID International Limited was founded in 2009 by CEO, Tim Dean. One of Australia's leading providers of online situational credit, the company is perhaps best known for its Cash Train and Mr Tax Refund brands.
Operational in both Australia and New Zealand, PAID International has assisted over 50,000 people with a range of credit products and tax assistance.