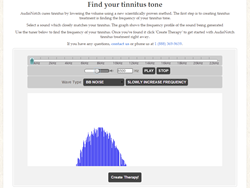 Toronto, Ontario (PRWEB) February 07, 2014
Many individuals who suffer from tinnitus lack good treatment options for their illness. Although a high number of patients seek out Notched Sound Therapy, a significant roadblock exists for those who cannot match their own tinnitus tone to a computer generated tone.
Notched Sound Therapy is one of the newest, most promising tinnitus treatment options available. Because it is uniquely customized for every patient's individual tinnitus frequency, patients must be able to approximately match their tinnitus tone to the computer generated tone. This process is referred to as "tinnitus tuning."
Some patients have a relatively straightforward time "tinnitus tuning," since they experience a simple "pure-tone" tinnitus sound which sounds like a high frequency sine wave. However, many individuals have atypical tinnitus tones which sound different. A common tinnitus tone is a narrow strip of "broadband noise" which cannot be easily replicated.
AudioNotch is pleased to announce the release of its updated tinnitus tuner on February 7th, 2014. This new tuner includes an option for "broadband noise" which will significantly improve the ease with which patients can discover their unique tinnitus frequency, and subsequently proceed with treatment via Notched Sound Therapy. The tuner is available at no cost to patients worldwide here.