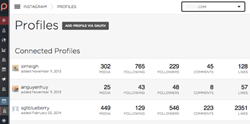 If your brand has more than one Instagram profile, you know how painful it is to manage them from Instagram's mobile app. Piqora's web-based Multiple Profile Management dashboard solves that.
San Mateo, CA (PRWEB) February 05, 2014
Piqora- the leader in enterprise analytics and branded promotions for Pinterest, Instagram, and Tumblr, today announced Multiple Profile Management for its Instagram analytics suite that enables agencies and brands with multiple accounts on Instragram to see all data for followers, comments, and likes in a single web-based dashboard.
Piqora is now the only Instagram analytics suite to display a single unified dashboard for an unlimited number of an agency's clients or sub-brands. Until today, marketing agencies and in-house social media teams were required to log-in to Instagram's mobile app to track performance metrics such as new followers, comments, and likes, then log-out and log-in again with different credentials to view data for additional clients or brands. This slow and insecure process has now been eliminated for customers of Piqora's complete marketing suite for the visual web.
The Multiple Profile Management dashboard for Piqora's Instagram Analytics suite also enables agencies and brands to easily compare Instagram metrics across multiple profiles, and deep dive into top photos, top influencers, and top comments from within the dashboard.
"Adding Multiple Profile Management to Piqora's Instagram analytics suite provides a simplified workflow and greater visibility into campaign virality and trends for the agencies and brands that are most engaged with Instagram's community of 170+ million users," said Sharad Verma, CEO of Piqora. The public and visual nature of Instagram opens up substantial big-data opportunities for companies like Piqora - who mine this interest graph and turn it into intent for marketers. Brands are being talked about whether or not they have already joined these visual networks officially. This constitutes a vast opportunity for brand managers to get deep insights about their audience and content and promote hashtags and content to acquire audience and turn them into customers."
Piqora's complete marketing suite for the visual web has the ability to identify unique images on Pinterest, Instagram, Tumblr, a brand's website or shopping feed and aggregate overall engagement trends on the image, helping marketers shape content strategy and gain insight into how to maximize their branding or sales efforts.
Visual Networks are big and growing. Pinterest is the 3rd largest e-commerce centric social network with over 10+ billion pins, drives strong purchase intent traffic with a Revenue/Visitor of $1.47 and average order value of $169. Instagram on the other hand is a mobile centric photo and hashtag based social network that has 170+ million active users, 16+ billion photos uploaded and 1+ billion likes as of June 2013. Tumblr, a heavy image based micro blogging network, is the largest interest-based network with 225+ million global uniques, 118+ million blogs, 59+ Billion posts and 80+ million posts daily (as of June 2013).
About Piqora
Piqora is the leader in marketing and analytics for visual, interest-based networks such as Pinterest, Tumblr and Instagram. The first to launch a complete marketing suite and incorporate engagement, hashtag, conversion and revenue metrics, Piqora already has hundreds of well-known retailers, brands and publishers using its promotions and analytics engine to easily identify and connect with influential brand advocates, gain actionable insights into trending images and measure key engagement metrics to quantify brand engagement on these visual networks. Top brands working with Piqora include Sephora, Zappos, Etsy, Z Gallerie, Orbitz, and Steve Madden. For more information on Piqora visit http://www.piqora.com.
Media Contact:
Sharad Verma, CEO, Piqora
408.594.9728
sharad(at)piqora(dot)com