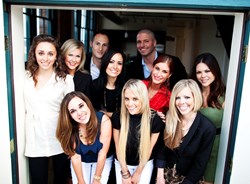 Buying a home for the first time can be intimidating, but it doesn't have to be.
Houston, Texas (PRWEB) February 10, 2014
Urban Leasing and Realty (ULR), Houston's leading Inner Loop Real Estate Brokerage, is hosting its first ever Sip & Learn education session and wine tasting at the brand new Brick & Spoon Restaurant located at 1312 Alabama in Montrose on Wednesday, February 19th. The event lasts from 6 to 7:30 PM and is free for attendees.
"Buying a home for the first time can be intimidating, but it doesn't have to be," said ULR Co-Founder and Principal Scott Weaver. "We wanted to showcase what many people consider to be a stressful chore in a way that transforms it into a vibrant, lovely experience… and enjoy some wine and hor d'oeuvres in one of Montrose's best new establishments, too!"
Sip & Learn will feature five fine wines with cheese accompaniments, all presented by a professional, in-house Brick & Spoon sommelier. As the featured wine specialist breaks down each of the wines one by one, ULR experts will present on topics essential to the first-time home buying experience, including the differences between renting and buying, hot Houston neighborhoods to buy and live in, budgeting for a mortgage, determining the true shape of a house before purchasing, and other major considerations for Houston real estate buyers.
In addition to ULR's friendly forward-thinking realtors and Brick & Spoon's wine wizard, the event will also features expert opinions and explanations from some of the top mortgage lenders, title companies, home inspectors and insurance agents in the city. Co- sponsors include Kai bike of Republic State Mortgage, Candice Hildebrandt of Great American Title, MarkRafail of Rafail Insurance, and Travis Kepp of Southern Star Inspection.
Space for the event is limited. Guests must be 21 years of age to participate in the wine tasting. All parties interested in attending are asked to RSVP to info(at)ULRproperties(dot)com with name and the number of members in their party. All reservations include a table for the wine tasting with cheese pairing, and an exclusive gift bag.
About Brick & Spoon
We're serving a complete, high-quality southern experience for those who want accessible, affordable alfresco dining. Completely sophisticated and sensual yet totally casual, our menu features hearty breakfast and lunch fare paired with deliciously unique cocktails and built-to-order bloody marys.
Whether you want a meal and music, or just a place to enjoy a cup of coffee, you'll find what you're looking for here at Brick & Spoon. We're your much-needed neighborhood stop for breakfast, brunch, and lunch—whether you're on a liquid diet or no diet at all!
Our owners, Bryan Jewell and Ryan Trahan, founded Brick & Spoon because they wanted to spread the southern mojo across the country. Good food, good drinks, good entertainment all get together at Brick & Spoon every day. You and your friends and family should too!
Visit http://brickandspoonrestaurant.com.
About Urban Leasing & Realty
ULR is a fast-growing Montrose-based Houston real estate brokerage fully focused on assisting Houstonians seeking to buy, sell, rent or manage lofts, houses, condos, and townhomes. ULR's knowledgeable, talented professionals bring a personal touch to each and every property, striving to reduce stress and provide prospective buyers and sellers prompt, attentive service delivered with utmost integrity. This dedication to service, combined with our intimate understanding of real estate processes and the area you want to explore, helps create a lovely experience for the people we serve.
For more information, visit http://www.urbanleasing.com.