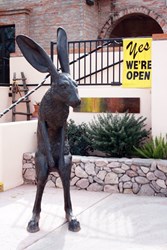 Tubac, Arizona (PRWEB) February 10, 2014
Tubac Center of the Arts acquires two new sculptures through community supported donations."Tubac Jack", a 7' 4" tall bronze Antelope Jack Rabbit weighs in at 207 pounds. "Tubac Jack" was created by Tubac wildlife artist, Nicholas Wilson in 2008 and now greets visitors at the entryway to the art center. While alone in the studio gallery one night, the 150 pound clay sculpture fell on its face, flattening his nose and dislodging his ears. He was saved of course through the diligent work of the artist prior to being driven to Prescott for casting.
"Waves of WInd," a 16' tall, 1,800 pound sculpture by Tubac artist, Lee Blackwell was installed on Friday, January 24th. The sculpture, originally created in 1985/86 was fabricated in El Paso, TX and driven to Phoenix, AZ where it has lived until now. The sculpture was commissioned by Mitch Menaker, a Phoenix developer, in 1985 when Phoenix first initiated its public art program. In 2012, the building where the sculpture lived was being demolished and the it was rescued by Lee Purnell and has now made its way home to Tubac.
ABOUT TUBAC CENTER OF THE ARTS
Tubac Center of the Arts is the core of Tubac's artistic heritage. TCA is a non profit member supported art center with rotating art exhibitions, art workshops and education programs for both adults and youth, a performing arts series, a gallery gift shop and a number of special events throughout the season. Tubac Center of the Arts is located at 9 Plaza Road, in the historic artist community of Tubac, AZ, about 40 miles south of Tucson and 17 miles north of Nogales off Interstate 19. Nestled in the Santa Cruz River Valley between the Tumacacori, Santa Rita and San Cayetano Mountains,Tubac offers much to its visitors - recreation, lodging, restaurants, galleries, artists' studios, the Tubac Presidio State Historic Park, and the Tumacacori National Historical Monument.
Hours: Monday - Saturday, 10:00am - 4:30pm, Sundays, 12:00 - 4:30pm, Admission: FREE
For more information on exhibitions, classes, programs and membership, please call 520-398-2371 or visit http://www.TubacArts.org
.