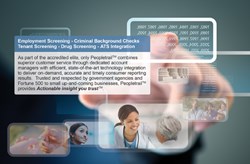 Only 2% of companies in the background screening industry are accredited. Peopletrail is accredited and a licensed private investigative firm providing employee background checks and screening and corporate security solutions.
Salt Lake City, UT (PRWEB) February 05, 2014
Peopletrail today announced the addition of licensed, private investigative services to their comprehensive corporate security solutions. Directed through Peopletrail's new lead investigator and Corporate Investigative Division, the investigative services will serve corporate and high-profile clients needing the expertise of Peopletrail's team. The investigative services will be provided to situations involving business and corporate investigation and will not take on private individuals for domestic related claims.
The following represents the core investigative services provided under Peopletrail's Corporate Investigative Division:

Cellular telephone, PDA and computer forensics
Computer network investigations for companies uncovering evidence of corporate theft rings
Corporate investigations, and sting operations
Covert surveillance, closed-circuit television security systems and bug-sweeping
Due diligence Investigations and employee/witness interviews
Forensic accounting and fraud investigations
Harassment investigations
Litigation support, asset searches and service of process
Physical security – consulting, armed and unarmed executive protection
Violence in the workplace, theft and substance abuse investigations
"Peopletrail has taken long strides to become an all inclusive provider of corporate security solutions to each of our valued clients. The addition of our Corporate Compliance Division a few months ago and this most recent addition of the Corporate Investigative Division clearly shows our resolve to be the trusted leader in the industry," stated Wallace Davis, President and CEO. "Our significant growth and client loyalty are testaments to the trusted and secured technology solutions, expanded service offerings, specialty division additions, competitive pricing, and personalized service we are dedicated to providing all our clients, no matter how large or small."
Customers can schedule a complimentary consultation related to corporate investigative services or any of Peopletrail's background check and screening services by visiting the company's web site at Peopletrail.com or contacting the company directly at 866-223-8822.
Peopletrail is an accredited provider of Employment Screening, Criminal Background Checks, Tenant Screening, Drug Screening, ATS Integrations, and Corporate Security & Investigative Services.
As part of the accredited elite, only Peopletrail combines superior customer service through dedicated account managers with efficient, state-of-the-art technology integration to deliver on-demand, accurate and timely consumer reporting results. Trusted and respected by government agencies and Fortune 500 to small up-and-coming businesses, Peopletrail provides Actionable insight you trust.
Interested customers in Peopletrail's background check and screening services can contact the company at 888.223.6623 or by visiting the company web site at Peopletrail.com.