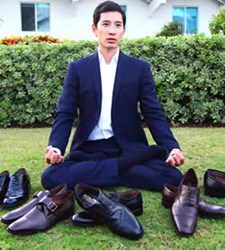 A Higher Vibration. NOHARM's Ethical Heritage.
(PRWEB) February 06, 2014
To commemorate its 10th Anniversary, NOHARM has introduced 2 new brogue shoes. The Chatsworth, named after a market in East London, is available in black and brown and has a traditional Derby styling and a classic perforated design. Other NOHARM styles include:
i) The Stepney - An elegant brown wingtip Oxford style. Read more
ii) The Grantham - A classic black straight cap Oxford style shoe with a matte finish. Read more
iii) The Darwin - Black or brown classic Derby style lace up ankle boot with clean, eye-catching lines. Read more
Image to the right by photographer Wendy Loke and professional model/actor and animal advocate Richie Kul encapsulates the original NOHARM vision.
LIVING THE NOHARM MANTRA:
"They're just shoes, it's true. Yet no harm is inflicted, no creature is butchered, no human is exploited. The connection of the NOHARM sole to the earth is based on a higher vibration." The NOHARM blog
NOHARM's ethical heritage is backed by recognition from the UK's Vegan Society and is based on a cruelty-free ethos. All NOHARM materials are meticulously researched to ensure the finished product conforms to the highest ethical and environmental standards.
The merits of offering high quality vegan footwear are apparent to most, however the environmental implications might be less obvious. To quote Senior U.N. Food and Agriculture Organization official, Henning Steinfeld, the meat industry is "one of the most significant contributors to today's most serious environmental problems."
Carbon dioxide, methane, and nitrous oxide together cause the vast majority of global warming. Raising animals for food (AND LEATHER) is not only a threat to human health, but is also one of the largest sources of carbon dioxide and the single largest source of both methane and nitrous oxide emissions.
In addition to ethical and environmental considerations, NOHARM supports healthy, fair and dignified working conditions and strongly opposes employment abuses that are regularly exposed by the media.