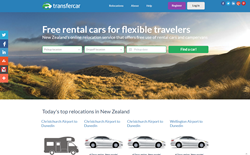 the next step is launching in USA, which is now only weeks away
Auckland, New Zealand (PRWEB) February 07, 2014
Transfercar, the free rental car company, has launched its new website design. Responding to customer feedback, the team has created a website that is both clearer and easier to use.
The development team has also improved the site layout so more information on each rental car is visible on the home page as well as including social sharing buttons on a floating toolbar.
Featuring a novel width auto-sizing tool, the website will now load on any device to fit the full screen. We really wanted to make the most of the dramatic photographic scenery we on our home page and so maximizing the size makes a real impact.
Espen Grimstad, CEO said "This has been a long time in development because we kept listening to our customers and they had so many great suggestions for improvements. We are really pleased with the result. Having co-ordinated the development we are continuing to add more features over the coming weeks."
Improving the user experience is a critical part of every internet business today. The technical team chose to build on the Symfony PHP platform because of its robust framework backed by a comprehensive toolbox of software components. Making the user front end responsive for mobile, tablet as well as desktop viewing was an important objective for the redesign and Zurb Foundation's claims to be the most advanced responsive front-end available.
Adding in funky icons from the Designmodo team and a smooth reworking of the company logo by Luc Design has gained a polished modern look and feel.
Transfercar runs separate websites for customers in Australia and New Zealand. This investment will be the bedrock of future business growth into new territories and more website domains. According to Espen"the next step is launching in USA, which is now only weeks away".
ENDS
About Transfercar
Transfercar helps people and rental car companies make and save money on under-used rental cars. Rental operators need to relocate cars between their branches in order to position their fleet for new hires.
Transfercar facilitates contact between rental operators that need to relocate their vehicles, and travellers who would like to drive their cars free of charge.
The rental operators submit vehicle relocations to the Transfercar database using the website. Prospective drivers then request a relocation car using either the website, mobile or email. The Transfercar solution delivers financial benefits to both rental car companies and flexible travellers.
Transfercar is due to launch in USA during Q1 2014. Rental operators interested in partnering with Transfercar are encouraged to contact CEO Espen Grimstad.
Transfercar Australia https://www.transfercar.com.au
Transfercar New Zealand https://www.transfercar.co.nz
Foundation http://foundation.zurb.com/index.html
Symfony http://symfony.com/
Designmodo http://designmodo.com/
Luc Design http://lucidentity.com/