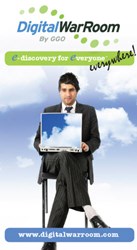 "Digital WarRoom Express breaks down the affordability barrier, by providing robust processing, search, review, and document production in an all-in-one tool for only $99 per year."
New York, NY (PRWEB) February 05, 2014
Digital WarRoom, the ediscovery experts driving the move toward accessible, affordable ediscovery solutions, proudly introduces Digital WarRoom Express this week at LegalTech in New York, the most important legal technology event of the year. Digital WarRoom representatives will demonstrate the application to visitors in booth 1516 at LegalTech, at the New York Hilton, February 4-6, 2014.
"The Digital WarRoom platform, originally designed for high volume ESI processing and SaaS hosting on large and complex cases, scales superbly for any size organization or case", said Barry O'Melia, COO at Digital WarRoom. "At $99 for a full year of use, DWR Express eliminates the 'giga-budget' concerns from the cost-benefit decision in whether to pursue a case. And, because it's wizard-driven and simple to use, the fear factor is eliminated."
"Three years after the initial launch of the Digital WarRoom brand, most providers of tools and services in electronic discovery continue to offer solutions aimed at high volume, big budget matters" said Christine Taylor, IT content expert and industry-watcher. "In many instances, parties to smaller matters settle unnecessarily, due to a lack of user-friendly, cost-effective tools for medium and smaller volume litigation cases. There are myriad cases in state and local courts, for example - small local business litigation, internal employee investigations, exiting employee knowledge capture, divorce asset division, and local contract disputes – being handled with manual or inefficient processes, because traditional tools are too expensive and complex. Digital WarRoom Express breaks down the affordability barrier, by providing robust processing, search, review, and document production in an all-in-one tool for only $99 per year."
Visitors to the Digital WarRoom booth at LegalTech will have an opportunity to win one of five free copies of Digital WarRoom software. Those unable to visit the Digital WarRoom booth for a demonstration are invited to participate by downloading a Free Trial copy of DWR Express at http://www.digitalwarroom.com
About the Digital WarRoom E-Discovery Platform
The Digital WarRoom technology platform is a robust e-discovery architecture designed to support fast and efficient ESI processing, content analysis, review, marking and production of email and documents in response to litigation, investigations, M&A Transactions, and other legal challenges. The Digital WarRoom products are offered in several configurations:
Digital WarRoom Express, a streamlined, wizard-driven ediscovery application for cases up to 50GB of data, or 100,000 documents.
Digital WarRoom Pro, the first PC based product for e-discovery, allowing an individually licensed user to conduct complete e-discovery on up to a million documents;
Digital WarRoom WorkGroup, a client-server application that allows corporate IT, in-house legal, or law firm e-discovery practitioners to manage e-discovery case data processing, document review and production without high priced volume-based processing;
Digital WarRoom Server, a pre-configured appliance that allows corporate IT, in-house legal, or law firm e-discovery practitioners to manage e-discovery case data and review;
Hosted SaaS (software as a service) hosted solutions are available from a growing network of Digital WarRoom partners.
About Digital WarRoom
Digital WarRoom is the first ediscovery platform to provide law firms, corporate legal and ediscovery teams with complete ESI processing, document review and production in a single application, eliminating traditional high-cost volume-based processing fees. The Digital WarRoom technology was designed for in-house use by large law firms and corporate legal teams to address document processing, review and production in legal matters of all types.
The Digital WarRoom platform is unique in its ability to create and save case data in a portable form. A case database created on any Digital WarRoom product can move seamlessly to any other Digital WarRoom product, with all attorney work product preserved. This unmatched flexibility allows organizations to cost effectively handle an entire portfolio of matters in-house, while retaining the option for full-service hosted review on larger, complex and global matters. To learn more about Digital WarRoom visit http://www.digitalwarroom.com.