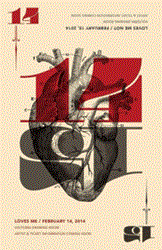 "Shaprece is one of the artists I'm most excited about," said Marco Collins, one of the only DJs in the Rock and Roll Hall of Fame, and the curator of "Loves Me" and "Loves Me Not." "She's Seattle's Beyonce. Only hipper."
Seattle, WA (PRWEB) February 06, 2014
Couples looking for a romantic evening and a way to do something good for others on Valentine's Day can discover a night of love songs performed by some of the most promising independent musicians in the Northwest at "Loves Me," 7 p.m. Feb. 14, while those less amorous but just as discerning can enjoy a night of music about love gone wrong Feb. 15 at "Loves Me Not." Both shows are curated by world-famous tastemaker, Marco Collins. One of the only DJs in the Rock and Roll Hall of Fame, Collins was the first to give radio airplay to bands ranging from Nirvana to Pearl Jam and Soundgarden. Collins' "Loves Me," and "Loves Me Not" shows will be performed in the intimate Volterra Drawing Room, 5407 Ballard Avenue NW, where doors will open at 7 p.m. Tickets for general seating are on sale for $15, and for reserved seating for $25 at BrownPaperTickets.com, or by calling Brown Paper Tickets' 24-hour ticket concierges at 1-800-838-3006.
"Valentine's Day can be a emotional time for a lot of people, both good and bad," Collins said. "It's amazing if you have a significant other to share in the festivities, otherwise it's a crushing reminder of your single status. So, we decided to create shows around both of those emotions! A night of love songs and a night of breakup songs!"
"Loves Me" on Feb.14 will feature live performances from Shelby Earl, Shaprece (with IG88), Shawn Smith, Maiah Manser, and Mark Shirtz. "Loves Me Not" will include live performances from Jason Dodson of The Maldives, Mike Herrera of MXPS, Naomi Wachira, Ruler, and S, also known as Jenn Ghetto with artwork by Ten Hundred.
"I'm especially excited for some of the artists I've booked. I think I've embraced a wide array of sounds as well; Americana, R&B, Electronic, Acoustic Punk, World Music, Indie, Alt Country. We're all over the map," said Collins.
Brown Paper Tickets regularly donates 5 percent of its profits from every ticket sold to charities in the category of each ticket buyer's choice, making the "Loves Me" and "Loves Me Not" shows appropriate for those who want to share the love of Valentine's Day with others. The Not-Just-For-Profit ticketing company makes donations to nonprofits helping children, animals, the environment, human rights, microfinance and microloans to people in third world countries in need.
"Shaprece is one of the artists I'm most excited about," said Collins. "She's Seattle's Beyonce. Only hipper." Shaprece will performing with electronic musician, IG88, and a string section.
Collins even chose the venue for these all ages shows with care. "The Volterra Drawing Room is very exciting to me because it's so intimate," he said. "We'd love to invite people to make it a night! Have dinner next door at Volterra and then enjoy a Valentine's Day show curated for a truly romantic listening experience."
###
Brown Paper Tickets (http://www.BrownPaperTickets.com), the world's only Not-Just-For-Profit ticketing company, creates stronger communities through events, donations and a business model that prioritizes helping people and supporting community over making profits. The company offers sophisticated ticketing and event registration tools at the lowest fees in the industry, donates 5 percent of its profits to causes in the category of each ticket buyer's choice, pays employees a week's salary each year to work for nonprofits, and employs a team of "Doers" to build healthy communities.