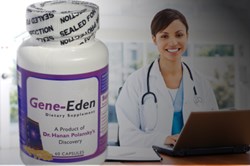 We recommend that those infected with the herpes zoster virus talk to their doctor about Gene-Eden-VIR. This natural product was proven to reduce viral symptoms in a post-marketing clinical study that followed FDA guidelines. – Mike Evans, polyDNA
Rochester, NY (PRWEB) February 11, 2014
An article published in the LA Times has linked Herpes Zoster (HZ) to increased heart attacks. Those who experience a Herpes Zoster outbreak (shingles), a condition caused by the Varicella Zoster Virus (VZV), are "50% more likely to have a heart attack than those who have not had shingles (1)." As the author of the article wrote, "…the disease process that ends in a heart attack…may have started with a mild or asymptomatic case of herpes zoster infection (1)." polyDNA therefore recommends that people infected with VZV consider taking Gene-Eden-VIR. This natural product was clinically proven to reduce symptoms of viral infections in a study that followed FDA guidelines.
The LA Times article discussed a new study published in the medical journal Neurology.
Study authors discovered that the VZV virus increases the rates of heart attack dramatically. Shingles patients "had 14% more heart attacks … than matched subjects who had not had shingles (1)."
Another study found that the "Inflammatory process is a well-established pathogenic process in exacerbating atherosclerosis (a disease in which plaque (pronounced 'plak') builds up inside your arteries)." In addition, "The present study used a representative population sample and found that patients with the history of herpes zoster were at higher risk of arrhythmia (an irregular heart beat) and coronary artery disease (heart disease)." (See the Journal of Medical Virology, from January 30, 2014) (2).
"Almost 1 out of every 3 people in the United States will develop shingles, also known as zoster or herpes zoster. There are an estimated 1 million cases each year in this country. Anyone who has recovered from chickenpox may develop shingles; even children can get shingles. However the risk of disease increases as a person gets older. About half of all cases occur among men and women 60 years old or older." (See the CDC's webpage on herpes zoster, last updated January 10, 2011) (3).
"We recommend that those infected with the herpes zoster virus talk to their doctor about Gene-Eden-VIR. This natural product was proven to reduce viral symptoms in a post-marketing clinical study that followed FDA guidelines." – Mike Evans, polyDNA
In a post marketing clinical study published on August 12, 2013 in the medical journal Pharmacology & Pharmacy in a special edition on Advances in Antiviral Drugs, researchers showed that Gene-Eden-VIR is safe and effective (4). Additionally, up to 70% of those studied reported a decrease in viral symptoms, and users experienced an increase in overall health (4).
Each ingredient of Gene-Eden-VIR was chosen through a scientific approach. Scientists scanned thousands of scientific and medical papers published in various medical and scientific journals around the world to identify the safest, most effective natural ingredients that target latent viruses (4).
To learn more about Gene-Eden-VIR visit: http://gene-eden-kill-virus.com/Herpes-Remedy.php. All orders of Gene-Eden-VIR are completely confidential, and no information is shared or sold to any third party. Privacy is assured.
Reference:
(1) Shingles can increase risk of heart attack, stroke, study says. Published on January 2, 2014.
http://articles.latimes.com/2014/jan/02/science/la-sci-shingles-increases-heart-stroke-20140102
(2) Increased risk of cardiovascular events in patients with herpes zoster: A population-based study. Published on January 30, 2014.
http://www.ncbi.nlm.nih.gov/pubmed/24482346
(3) CDC - Shingles (Herpes Zoster) - Overview. Last updated on January 10, 2011. http://www.cdc.gov/shingles/about/overview.html
(4) Gene-Eden-VIR Is Antiviral: Results of a Post Marketing
Clinical Study. Published on August 12, 2013.
http://gene-eden-kill-virus.com/PP_Gene-Eden-VIR-is-Antiviral.pdf
polyDNA is a biotechnology company that develops dietary supplements using the unique scientific method developed by Dr. Hanan Polansky, which is based on Computer Intuition.
In addition to his unique scientific method, Dr. Polansky published the highly acclaimed scientific discovery, called Microcompetition with Foreign DNA. The discovery explains how foreign DNA fragments, and specifically, DNA of latent viruses, cause most major diseases.
polyDNA developed Gene-Eden-VIR , an antiviral natural remedy that helps the immune system kill latent viruses.