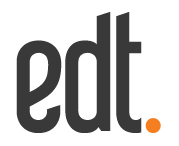 The biggest challenge is often the migration of old cases from legacy technology.
New York, NY (PRWEB) February 06, 2014
For over a decade, EDT (http://www.discoverEDT.com) has established an international reputation as a preferred provider of end-to-end software to support litigation and investigations. Its Toolbox software covers the EDRM life-cycle from processing to analysis, review, production and presentation.
Hailing from Australia, EDT has recently established its presence in the US market, with founder and CEO Jo Sherman's relocation to New York City to head up the expansion into North America.
"While we know we have a robust, proven solution that appeals to many law firms, we realize the biggest challenge is often the migration of old cases from legacy technology. To that end, we've developed a new offering to make that process as smooth and painless as possible."
With every new license, EDT offers free migration and analysis services to facilitate the transition from legacy products such as Summation or Concordance. The data migration service is provided via EDT's network of trained consultants and partners, each of whom have extensive experience with litigation support software platforms.
"There are very few greenfield law firms that have no software in place and migration is a headache for litigation support managers. That is a commercial reality," said Sherman.
Over the last decade EDT has grown its client base to include many of the GLOBAL 100 law firms, top four accounting firms, large national law firms in Australia, magic circle firms in the UK, and numerous mid-tier law, accounting and forensic advisory firms. One of the three largest international corporations has also recently committed to a global rollout of EDT software. EDT is now focused on growth within the US and Canadian markets.
About EDT
EDT is a recognized international provider of electronic discovery and legal case management technology that helps organizations manage disputes, investigations, and litigation. Originally founded in Australia in 2002, EDT has been embraced by an international blue chip client base including GLOBAL100 law firms, top tier accounting firms, corporations, government agencies, forensic experts and consulting service providers. For more information, please visit us at http://www.discoveredt.com.