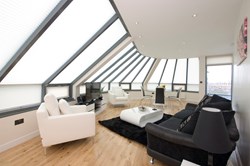 London, England (PRWEB UK) 6 February 2014
In some parts of the globe, in Wales, for example, 'Dydd Santes Dwynwen' is acknowledged on January 25th instead of or as well as Valentine's Day. On the special day it has been an old tradition, still followed nowadays, to give decorated wooden spoons to the loved ones. Interestingly, in South Korea and Japan on 14th February the women give chocolate to men and it is all about spoiling the men not the other way around, as seen in most Western cultures. In Finland and Estonia it is seen as a celebration of friendship rather than a romantic love fest and it is referred to as 'Friends Day'.
Depending on personal preferences, London has a lot to offer with variety of romantic restaurants and Valentine's parties. From romantic night bus tour with a glass of champagne, or a romantic dinner cruise on the Thames, to privately hired 'flying' capsules on the London Eye, decorated with roses and declarations of love in different languages.
Impress your other half with a homemade special dinner and a panoramic city view of London from one of the Penthouse apartments. Equipped with a fully fitted kitchen and spacious living area, especially designed to make our guest comfortable and welcome. Contact our reservations team and any particular requirements will be arranged for your convenience. All of our Valentine's guests will get a special treat from Chelsea Bridge Apartments.
Chelsea Bridge Apartments are luxury apartments located only 10 minutes from central London. The property only opened its doors in May 2013 and it has been completely refurbished with new modern furnishings. The apartments are above average in size, with large bedrooms, kitchens and open plan living rooms. The great online reviews for Chelsea Bridge Apartments, reveals sincere experiences of many returning guests that are delighted to bring back their family and friends again and again.