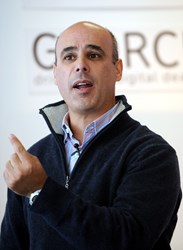 For many marketers, social media rarely gets beyond what kind of sandwich they are eating for lunch.
London, UK (PRWEB UK) 6 February 2014
Vocus, Inc. (NASDAQ: VOCS), a leading provider of cloud-based marketing and public relations software, today announced its latest in a series of educational webinars, "Twitter: It's Not Just About Cheese Sandwiches," featuring social media expert and author Mark Shaw on Feb. 18, 2014 at 3 p.m. GMT.
Social media has changed the way that many organisations engage with their audiences, including customers, partners and prospects.
Organisations who understand social media are using it to share news and information, find new customers, build brand awareness, monitor sentiment, manage customer expectations and ultimately drive and protect revenues.
But not everyone understands this opportunity. For many marketers, social media rarely gets beyond what kind of sandwich they are eating for lunch.
On Tuesday, Feb. 18, 2014, Vocus will be joined by social media expert and author Mark Shaw who will explain why:

Twitter is the greatest lead generation tool ever invented.
Social media is not a broadcast station, but a communication channel.
Social media is an add-on to other marketing activities not a substitute.
Social media is a game changer for businesses.
About Mark Shaw
Mark Shaw is a speaker and consultant on all things social. He is the author of the best-selling book "Twitter Your Business" and regularly comments on the state of social media marketing in the media including recent appearances on the BBC and CNN and in The Guardian, The Huffington Post, The Daily Mail and The Sun.
About Vocus
Vocus (NASDAQ: VOCS) provides leading cloud-based marketing and public relations software that enables companies to acquire and retain customers. The company offers products and services to help clients attract and engage prospects, capture and keep customers, and measure and improve marketing effectiveness. More than 17,000 annual subscription customers across a wide variety of industries use Vocus software. The company is headquartered in Beltsville, MD with offices in North America, Europe and Asia. For more information, visit http://www.vocus.co.uk or call +44 (0)20 7481 6150.
Forward-Looking Statement
This release contains "forward-looking" statements that are made pursuant to the Safe Harbor provision of the Private Securities Litigation Reform Act of 1995. These statements are predictive in nature, that depend upon or refer to future events or conditions or that include words such as "may," "will," "expects," "projects," "anticipates," "estimates," "believes," "intends," "plans," "should," "seeks," and similar expressions. This press release contains forward-looking statements relating to, among other things, Vocus' expectations and assumptions concerning future financial performance. Forward-looking statements involve known and unknown risks and uncertainties that may cause actual future results to differ materially from those projected or contemplated in the forward-looking statements. Forward-looking statements may be significantly impacted by certain risks and uncertainties described in Vocus' filings with the Securities and Exchange Commission.
The risks and uncertainties referred to above include, but are not limited to, risks associated with possible fluctuations in our operating results and rate of growth, our history of operating losses, risks associated with acquisitions, including our ability to successfully integrate acquired businesses, risks associated with our foreign operations, interruptions or delays in our service or our web hosting, our business model, breach of our security measures, the emerging market in which we operate, our relatively limited operating history, our ability to hire, retain, and motivate our employees and manage our growth, competition, our ability to continue to release and gain customer acceptance of new and improved versions of our service, successful customer deployment and utilization of our services, fluctuations in the number of shares outstanding, foreign currency exchange rates and interest rate.