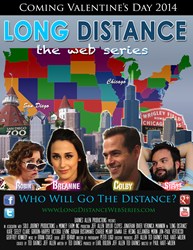 Los Angeles, CA (PRWEB) February 06, 2014
SERIES SUMMARY
Created by Jeff Allen & Ted Barnes, written by Ted Barnes, and directed by Paul Hart-Wilden.
Long Distance explores the development of a long distance relationship, starting from the very moment Colby (Jeff Allen) and Breanne (Taylor Cloyes) meet.
The two meet out of town at a party, hit it off, then exchange numbers. After going home to their respective cities, the two keep in touch while managing their romantic feelings for each other. It's clear that Colby and Breanne have chemistry, but is there any way that Long Distance can work?
The series follows the comedy, drama, and romance as the two of them, and their close friends, are affected by the journey they undertake.
THE CREATORS
Jeff Allen is an actor from the San Francisco Bay Area. After graduating from Stanford University, he worked in business until he found his true calling as an actor. Jeff can be seen next in the starring role of Jack Peruci in the contemporary horror film "Medusa," directed by Jorge Ameer, soon to be released in theaters. He also stars as the mobster dad in the upcoming family film "Mobster Kids." Jeff can also be seen on BravoTV's "Millionaire Matchmaker" and WEtv's "Pregnant & Dating."
Ted Barnes is a screenwriter from the San Francisco Bay Area. After graduating from Syracuse University, he moved to Los Angeles, and has worked on various TV Shows and Production Companies. He currently assists a TV writer who is developing a new show.
###
There will be a special screening of the first two episodes on Wednesday, February 12th in Los Angeles, and one in San Francisco the following week. For press access or inquiries, please send email to press(at)longdistancewebseries(dot)com.
"Long Distance: The Web Series" launches Episode 1 on February 14th with a new episode every week. News, updates, photos, and press information can be found at the official website of this series: http://www.LongDistanceWebSeries.com/.
More information can be found on the official Facebook page or Twitter feed. http://www.facebook.com/LongDistanceWebSeries; http://www.twitter.com/LongDistanceWS