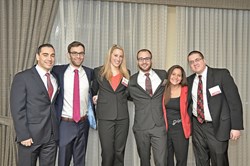 "We believe that Americans want to snack smart, and it's our hope that our campaign will encourage all Americans to incorporate America's original superfruit into their active and healthy lifestyles." ~ Kyle Rees, GWU MBA candidate
Wareham, MA (PRWEB) February 06, 2014
The U.S. Cranberry Marketing Committee (CMC) asked MBA-level students at the George Washington University (GWU) the same question posed earlier to GWU undergraduates in 2013: How do you increase demand for U.S cranberries amongst the 18- to 34-year-old Millennial Generation. As an added twist, the CMC challenged each of the three teams to focus on specific geographic regions: the Midwest, Northeast, and the Pacific Northwest and to consider two budget levels; a $50,000 level that is in line with historic CMC project funding levels and a $500,000 level that is considered a more appropriate entry amount for campaigns of the proposed magnitude.
On January 18, 2014, three teams from GWU converged on Boston to present their answers to a panel of cranberry industry experts.
"This MBA competition reinforces key research findings we learned from the undergrads, while presenting the Committee with new approaches to gaining market insights and also taking us to a whole new level in learning about distinctive characteristics unique to millennials in different parts of the country," said Scott J. Soares, Executive Director, CMC.
The winners, Total Branding+Design (TBD), focused in on attributes of Pacific Northwest millennials. Described as adventurous, health conscious, less inclined to watch TV and more likely to read their local newspaper, TBD proposed a fully integrated 'ready to roll' print and online media plan geared to the lifestyles of this region. According to TBD's research, U.S. cranberries are well positioned for growth given trends towards increased snacking, healthy food choices and active lifestyles.
"Our research suggests that there is great value in positioning U.S. cranberries as the ideal snack for those who live life on the go," said Kyle Rees, a member of Total Branding+Design. "We believe that Americans want to snack smart, and it's our hope that our campaign will encourage all Americans to incorporate America's original superfruit into their active and healthy lifestyles."
"This consulting project extended far beyond the walls of the classroom, adding depth and breadth to the educational experience. We were asked to solve real world problems faced by our client, to do so using marketing methods employed by agencies and researchers currently in the field, and to present to senior executives in the industry. Our meetings with cranberry leaders, bog tours, and presentations from Mr. Soares deepened our understanding of, and fondness for the cranberry industry. We also got to do a lot of taste testing. Watch out America because there are some exciting things coming your way from the cranberry industry!" Genevieve McGreevy, GWU MBA candidate.
Under the mentorship and guidance of Dr. Lynda Maddox, Professor at the George Washington University, the undergraduate and graduate competitions yielded an impressive harvest of material for the cranberry industry:

Over 5,000 university-level hours devoted to growing primary demand of U.S. cranberries
6 online focus groups, 60 in-depth interviews, and 6 in-person focus groups
A palette of 9 campaigns that provide multiple opportunities to build on and complement current domestic marketing programs
Validation of key messaging recommendations across all teams
Shelf-ready blueprint for future competitions
40 undergraduate students and 20 graduate students (not including ancillary touch points of friends and family) whose awareness and appreciation for U.S. cranberries have grown
"It has been a wonderful experience working with the Cranberry Marketing Committee. The students have learned invaluable real world lessons and have provided insights to the cranberry industry that are realistic and implementable. I'm proud to be known as "The Cranberry Professor" at George Washington University, and I look forward to continuing collaboration with the CMC," said Dr. Lynda Maddox, Professor, GWU.
Added Soares, "These GWU business students rolled up their sleeves and took on an atypical business challenge. I am greatly appreciative for their outstanding work, wish each and every one of these GWU students the best of luck in their future endeavors and of course hope that they will remain enthusiastic Cran-bassadors for life!"
About the Cranberry Marketing Committee (CMC)
The CMC was established as a Federal Marketing Order in 1962 to ensure a stable, orderly supply of good quality product. Authority for its actions are provided under Chapter IX, Title 7, Code of Federal Regulations, referred to as the Federal Cranberry Marketing Order, which is part of the Agricultural Marketing Agreement Act of 1937, as amended. This Act specifies cranberries as a commodity that may be covered, regulations that may be issued, guidelines for administering the programs, and privileges and limitations granted by Congress. For more information about the CMC, visit uscranberries.com or follow @uscranberries and Cranberry Cravers on Facebook.