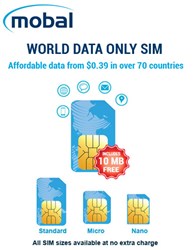 Over 60% of American travelers turn off data roaming when traveling internationally to avoid "Bill Shock".
New York, NY (PRWEB) February 10, 2014
Mobal, provider of convenient, practical mobile phone packages with handsets, smartphones and SIM cards, announced a new affordable world data SIM to remove the headaches of using data when traveling internationally.
Mobal's world data SIM works in unlocked GSM smartphones and tablet devices, available in mini, micro and Nano SIM size. Simply place the SIM in your device and take advantage of low cost data for just 39c/MB in over 70 countries worldwide, and because Mobal never requires monthly fees or pre-payment, customers are able to pay only for the data they use.
Traveling with carriers can be a costly exercise for people wanting to use mobile data, Mobal's data SIM offers a simple pay per MB model so, for example, using your Mobal SIM in Italy will cost you 39 cents/MB, and it's the same rate in the UK, France and Germany giving savings of up to 90%.
In comparison using a carrier could cost up to $20 per megabyte in the same countries, leading to high bills for minimal usage and travelers returning home to "Bill Shock."
"Over 60% of American travelers turn off data roaming when traveling internationally to avoid "Bill Shock" due to the astronomical data charges they receive from their carriers," said Mobal Chief Marketing Officer Jared Owen.
"We feel that this new SIM puts the traveler back in control of their data usage and how much they want to spend, now you can keep connected with friends and families on social media, check your emails, or navigate around with maps without the fear of returning to 'Bill Shock'."
Get your Mobal Data SIM today for $9 with free shipping and enjoy mobile data on your next trip at http://www.mobal.com/world-data-only-sim/.
About Mobal
Founded in 1985, Mobal is one of the world's original mobile phone providers. The company focuses on providing US travelers with convenient, reliable mobile phone packages for keeping in touch whilst traveling abroad -- with no monthly fees or pre-payment required. Mobal offers mobile handsets, smart phones and SIM cards along with simple, hassle-free plans and clear, reliable connections for international travel. Uniquely, over 90% of Mobal's profits support the Krizevac Project, the charity created by Mobal expressly to support communities in Malawi. Privately funded, Mobal is chaired by founder Tony Smith and headquartered in London, with offices in New York and Japan. Learn more at http://www.mobal.com/our-story.