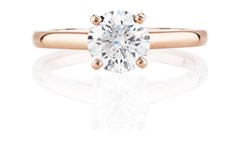 A time to cherish your loved ones, De Beers collections offer a wide range of delicately designed pieces that will capture the spirit of romance.
New York, NY (PRWEB) February 06, 2014
De Beers, The Jeweller of Light, captures the heart and illuminates the soul. A promise of love or a moment eternalised, De Beers Diamond Jewellery is witness to the wondrous milestones of life.
A time to cherish your loved ones, De Beers collections offer a wide range of delicately designed pieces that will capture the spirit of romance. To mark this occasion, De Beers introduces pink gold into its most emblematic collections. This thread-pavé heart pendant beautifully heroes the central solitaire and reflects the eternal moments of true love.
De Beers unparalleled diamond selection and meticulous craftsmanship is brought to life this Valentine's day through these elegant creations.
The Light of Love
This Valentine's Day, be inspired by the new pink gold DB Classic engagement ring and matching bands. These De Beers timeless designs will perfectly celebrate your eternal promise.
DB Classic Solitaire Ring
Timelessly elegant, this delicate pink gold ring has been meticulously designed and handcrafted with a four-prong-set round brilliant solitaire. Available exclusively on De Beers new For You, Forever service.
De Beers Pink Gold Wide Court Band
This classic 3mm pink gold wedding band has a sparkling diamond discretely positioned on the inside of the ring.
DB Classic Pink Gold Band
This 2mm pink gold band is crafted to be slightly rounded, with a hidden diamond positioned on the inside of the ring.
A True Expression of Love
The pink gold Enchanted Lotus pieces capture the warmth and femininity of the lotus flower adding a sentiment of love on this Valentine's day.
Enchanted Lotus Studs
This delicate pair of Enchanted Lotus studs is gracefully crafted in diamond pavé and pink gold.
Enchanted Lotus Pendant
This pure design gently contrasts delicate white diamond thread pavé with the romantic hues of pink gold.
Enchanted Lotus Band
Seemingly infinite in its flowing form, the Enchanted Lotus motif set in pink gold is stunningly elegant.
Gifts from the Heart
Treat your loved one to the beauty of brilliance this Valentine's Day with the new pink gold De Beers Aura set. Captivating and lustrous, the hand-set thread pavé perfectly follows the contours of the solitaire diamond of these stunning De Beers creations.
De Beers Aura Sleeper Earrings
These pink gold sleeper earrings from the De Beers Aura Collection are prong set with perfectly matching diamonds.
De Beers Aura Pendant
This timelessly feminine pink gold pendant from the De Beers Aura Collection is prong set with a stunning De Beers diamond.
De Beers Aura Band
This delicate and exquisite pavé band is set with a halo of round brilliant diamonds.
Captured Moments - De Beers Classics
Thread-Pavé Pink Gold Hoops
A contemporary classic, these hoops add a sophisticated sparkle. White diamonds set on pink radiate with a unique twist of coloured light.
Thread-Pavé Half Oval Bangles
Crafted in white, pink or yellow gold with diamonds and these elegant bangles feature 52 diamonds in a thread pavé setting.
Infinity Bands
The new De Beers Infinity bands capture the sparkle of a precious moment in life. They are also designed in full pavé and full pavé with a centre diamond.
THE DE BEERS DIFFERENCE
De Beers, the Jeweller of Light, creates timeless treasures that reveal and celebrate the wondrous brilliance of women and diamonds. As the definitive destination for diamond jewellery, we have a quest for inner beauty, bringing lightness, femininity and delicacy to our sublime diamond jewellery.
Drawing on diamond mastery since 1888, De Beers hand-select each diamond for its unique beauty to capture unmatched Fire, Life, and Brilliance. Each unique De Beers creation is the culmination of wondrous artistry and the true beauty of the finest diamonds.
De Beers is proud to be the only brand to demonstrate the beauty of its diamonds, using the De Beers Iris. This proprietary technology, found in each De Beers store provides clients with an objective way to see the beauty of their diamond through the eyes of an expert.
 
THE DE BEERS GUARANTEE
Each piece of De Beers jewellery is certified with a De Beers passport and each polished diamond above 0.20 carats is microscopically branded with the De Beers Marque. The De Beers Passport documents the specifications of your diamond jewellery and is your guarantee that every single De Beers diamond is natural, untreated, conflict-free and responsibly sourced and crafted. The De Beers Marque, using technology patented by the De Beers Group, is invisible to the naked eye and ensures that each diamond is individually catalogued in the De Beers diamond registry, confirming its identity as a De Beers official diamond, to provide clients with a total peace of mind.
 
DE BEERS DIAMOND JEWELLERS
De Beers Diamond Jewellers was established in 2001 as an independently managed and operated company by LVMH Moët Hennessy Louis Vuitton, the world's leading luxury products group, and De Beers SA, the world's premier diamond mining and marketing company.
A DIAMOND IS FOREVER

A DIAMOND IS FOREVER * is a registered trademark of the De Beers Group