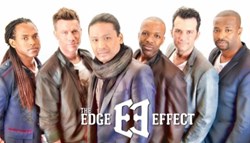 Orlando, FL (PRWEB) February 05, 2014
After months of anticipation, Orlando-based vocal super group The Edge Effect announce the exciting release of their debut album Alphabet Radio now available on iTunes and sold locally at Park Ave CD's in Orlando. The original album blends The Edge Effect's signature vocals with drums, keyboards and guitars to create a new and exhilarating sound. Alphabet Radio comes loaded with catchy tracks featuring special appearances by singer-songwriter Marc Broussard, Broadway superstar Shoshana Bean, renowned jazz saxophonist Mindi Abair and newcomer Omar Cardona, with production by Jamey Tate, engineering and mixing by Grammy winner Clark Germain and mastering by Grammy winner Gavin Lurssen.
Alphabet Radio is a 10-song tour de force that wears its influences on its sleeve and feels familiar, yet has a freshness that is missing from most Pop/Soul/Rock music that is currently on the scene. It balances vintage sounds with soaring melodies, modern harmonies and funky backbeats creating songs that are instantly hooky and memorable. "We wanted to write songs that you could sing along to after the very first time you heard them" says The Edge Effect's John Gibson. "We think we accomplished that goal."
Alphabet Radio consists of 10 songs, eight of which were written by members of the group and two others written by guest artists Marc Broussard and Mindi Abair who lend lead vocals and saxophone to their respective contributions. The band consists of keyboards by Jeff Babko (Frank Ocean, Jason Mraz), guitars by Andrew Synowiec (Michael Buble, Marc Antony, Robbie Williams) and drums by Tate, with all of the bass on the album created vocally by The Edge Effect's Karl Hudson.
The opening song "All Night" kicks off the album with a high-energy dance anthem reminiscent of Off the Wall-era Michael Jackson meets Earth, Wind & Fire. From the opening vocal percussion and the soulful lead, to the rapid fire horns and early 80's Prince inspired harmonies, the song sets the table with a bang. The album is bookended with another song that will make you want to get out of your seat in "Come Get a Taste" - a song with a serious backbeat that will have even the least rhythmic listener clapping along. In between are songs that touch on influences of funk ("Get on Down"), rock ("Wavin Goodbye"), pop ("Spotlight"), zydeco ('Mercury") and even reggae ("Smile/Stand Up"), all with the signature vocal sound that can only be created by The Edge Effect.
"Although the album hits on a few different genres and could be considered eclectic, the through line throughout is us," says The Edge Effect's Troy Dolendo. "We all have many interests, likes and influences, and we wanted this album to reflect that." Karl Hudson adds, "It is a big risk for us, but one we really believe in and hope fans old and new will too."
Album highlights include:
"Biggest Fan" - an original song written and performed by soul singing critical favorite Marc Broussard, which harkens back to the Stax Records soul songs of the 60's.
"Monsters" - an introspective and moody duet with Broadway superstar, the incomparable Shoshana Bean, who is fresh off of the release of her own soul record O'Farrel Street.
"Get Right" - featuring Grammy nominated saxophonist Mindi Abair, the album's only cover originally featured on Mindi's album In Hi-Fi Stereo, which The Edge Effect make their own on this new take.
"Come Get a Taste" of Alphabet Radio on iTunes at https://itunes.apple.com/us/album/alphabet-radio/id772269671 or purchase exclusively at Park Ave CD's located at 2919 Corrine Drive, Orlando, FL 32803. For more news and information on The Edge Effect, future performance dates and appearances, visit http://www.notaboyband.com.
###
MEDIA CONTACT: Ilene Lieber, 321-277-7812, ilene (at) passionprconsulting (dot) com