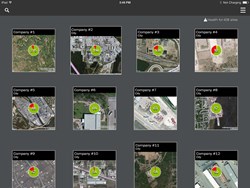 "SnapSite gives you equipment health and utilization while improving job site performance," said Brent Horne, ZTR Product Engineering Manager. "SnapSite also saves time by pulling the job site together for you."
Minneapolis, MN (PRWEB) February 06, 2014
ZTR Control Systems will be exhibiting at The Rental Show in Orlando, Florida February 10 – 12, 2014. ZTR will be conducting demos of the new SnapSite™ iPad® tablet app in booth #6373.
SnapSite is designed to be used with ZTR telematics hardware and is available for download from iTunes. SnapSite makes viewing remote equipment information easy by automatically finding assets close together and grouping them as a site. This enables the information for multiple pieces of equipment to be at your fingertips with little effort by the user.
Drilling down on specific equipment to see health, maintenance and utilization information will ZTR customers transform how they manage site equipment.
Learn more about the ZTR SnapSite App at The Rental Show in Orlando, February 10-12, 2014 Booth #6373, or visit http://www.ztr.com/snapsite. You may also e-mail connected(at)ztr(dot)com, or call 1-952-233-4340.
# # #
About ZTR Control Systems
ZTR provides innovative telematics solutions to keep equipment information in reach. With the inReach® Solution, powered by the ZTR i3™ Platform and apps such as SnapSite™, we make complex simple. Like us on Facebook and follow us on Twitter (http://twitter.com/ZTR).