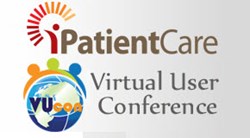 'iPatientCare VUCON is an ultimate vision to bring together the iPatientCare channel partners, end users, business partners, to attend educational sessions, exhibition, & to network with industry veterans,' said Pranav Patel, General Manager, iPatientCare.
Woodbridge, NJ (PRWEB) February 06, 2014
iPatientCare, Inc., a pioneer in mHealth and cloud-based ambulatory EHR and integrated Practice Management solutions announced Virtual User Conference (VUCON) to be held on February 20, 2014.The mobile world is growing every day and Practices need to adapt, prepare and respond. Effective dissemination of knowledge related to product and solution solves billing, scheduling, and other essential processes which ensure high workflow and better care to the Patients.
In this virtual conference, attendees will learn exclusive features of a native iPad based full-featured cloud-based and Meaningful Use stage 2 certified EHR miPatientCare (representing mobile iPatientCare) which includes How to add or update clinical information, review an appointment list, quickly access patient summary information with drill-down access to details when necessary, capture complete patient encounters and document a visit note, and ePrescribe with drug interaction checking and electronic transmission to pharmacies.
Additionally to that attendees will get education on iPatientCare EDI, iPatientCare's Clearing House solution, powered by Practice Insight. Attendees will get knowledge on How to submit claims directly to over 3000 payers using iPatientCare PMS. And detail view on verification of patient eligibility and posting of electronic remittances.
Practice management software keeps the medical office running smoothly, and the wrong package can wreak havoc with billing, scheduling, and other essential business processes. Attendees will get a closer look at CMS 1500 Common Myth's, Detail on NUCC, Features & Changes of the Revised Form, Medicare's transition timeline, New feature of Calculation of Aging on assignments Batching/Queuing for payments and much more.
"iPatientCare VUCON is an ultimate vision to bring together the iPatientCare channel partners, end users, business partners, and employees of iPatientCare to attend educational sessions, attend the exhibition, and have opportunity for networking with industry veterans," said Pranav Patel, General Manager, iPatientCare.
About iPatientCare:
iPatientCare, Inc. is a privately held medical informatics company based at Woodbridge, New Jersey. The company is known for its pioneering contribution to mHealth and Cloud based unified product suite that include Electronic Health/Medical Record and integrated Practice Management/Billing System, Patient Portal/PHR, Health Information Exchange (HIE), and mobile point-of-care solutions that serve the ambulatory, acute/sub acute, emergency and home health market segments.
iPatientCare EHR 2014 (2.0) has received 2014 Edition Ambulatory Complete EHR certification by ICSA Labs, an Office of the National Coordinator-Authorized Certification Body (ONC-ACB), in accordance with the applicable eligible professional certification criteria adopted by the Secretary of Health and Human Services (HHS).
Full certification details can be found at ONC Certified Health IT Product List.
The ONC 2014 Edition criteria support both Stage 1 and 2 Meaningful Use measures required to qualify eligible providers and hospitals for funding under the American Recovery and Reinvestment Act (ARRA).
The company has won numerous awards for its EHR technology and is recognized as an innovator in the field, being a pioneer to offer an EHR technology on a handheld device, an innovative First Responder technology to the US Army for its Theatre Medical Information System, the first to offer a Cloud based EHR product. iPatientCare is recognized as one of the best EHR and Integrated PM System for small and medium sized physicians' offices; has been awarded most number of industry Awards; and has been recognized as a preferred/MU partner by numerous Regional Extension Centers (REC), hospitals/health systems, and academies.
Visit http://www.iPatientCare.com for more information.