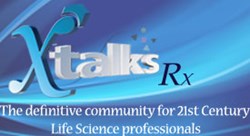 Toronto, Canada (PRWEB) February 07, 2014
Transcriptional regulation is accomplished by both focal cis-regulatory elements (promoters, enhancers, and insulators) and the higher order organization of chromosomes (topological domains). While these chromatin states are associated with a number of different epigenetic marks, DNA methylation (5-methylcytosine) is the most practical for studying primary tumors.
The presenters from University of Southern California, Johns Hopkins University and Epicentre (an Illumina company), will present on how whole-genome bisulfite sequencing (WGBS) is being used to profile dozens of primary tumors from The Cancer Genome Atlas (TCGA) project, how methylation can be accurately measured using next-generation sequencing, and a new method that yields comprehensive methylation coverage from small amounts of gDNA.
For more information on this webinar or to register, visit Using Whole-genome Bisulfite Sequencing to Understand Chromatin State Changes in Cancer.
Xtalks, powered by Honeycomb Worldwide Inc., is a leading provider of educational webinars to the global Life Sciences community. Every year thousands of industry practitioners (from pharmaceutical & biotech companies, private & academic research institutions, healthcare centers, etc.) turn to Xtalks for access to quality content. Xtalks helps Life Science professionals stay current with industry developments, trends and regulations. Xtalks webinars also provide perspectives on key issues from top industry thought leaders and service providers.
To learn more about Xtalks, visit http://xtalks.com.
For information about hosting a webinar, visit http://xtalks.com/sponsorship.ashx.
Contact:
Michelle Tran (416) 977-6555 ext 224
mtran(at)xtalks(dot)com