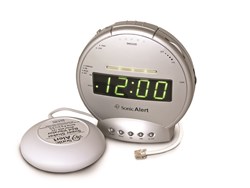 Troy, MI (PRWEB) February 07, 2014
Sonic Alert's SBT425ss is an alarm clock and telephone ringer alert that offers extra loud sound plus vibration so you will you confidently-awaken in the morning and never miss another telephone call. An adapted signaler allows users to set the clock alarm to sound, vibration, or both, whenever your phone rings.
The new version 3 SBT425ss offers several new convenience features such as user-selectable options for snooze times, 12/24 time format and alarm duration. Also included are dual alarm – ideal for couples and different schedules – a five-level dimmer, improved battery backup and Sonic Alert's Green Power, an energy-efficient technology that consumes 60% less compared to normal power supplies. Version 3 also includes a test mode that allows users to demonstrate the clock function. The clock's alarm, as with other Sonic Alert clocks, is a loud 113 db with adjustable tone & volume control and also uses built-in flashing lights.
For more information, contact Sonic Alert 1050 East Maple, Troy, MI 48083. Phone 248-577-5400, Fax 248-577-5433, or visit http://www.sonicalert.com. Sonic Alert provides products to improve the lives of the hard-to-wake, elderly and the hard of hearing. They are committed to continually producing new and innovative products that fill their customers' needs.