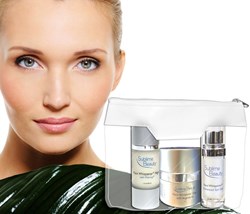 Three of the popular Face Whisperer® products are now available in a special skincare set, and 22% off for an introductory offer.
St. Petersburg, FL (PRWEB) February 06, 2014
The popular Face Whisperer® products are now available in a skincare kit from Sublime Beauty®.
"Many love our Face Whisperer® products, which have been featured on television," says Kathy Heshelow, founder of Sublime Beauty®. "We thought it was time for a nice skincare kit, perfect for travel."
The quality vinyl case holds the Face Whisperer® Day cream, Face Whisperer® Night cream and the new Face Whisperer® Advanced Eye Gel.
The day cream features Argireline®, known as the natural botox, to relax wrinkles. It also includes the patented Trylagen®, which boosts collagen production in the skin, plus fresh botanicals.
The night cream features Matrixyl®, a peptide which can double collagen production while you sleep. It is a creamy, comforting product that absorbs well.
The eye gel features patented ingredients to specifically reduce bags, dark circles and wrinkles. Clinical tests show good results within 30 days.
Each product is sold individually, but when sold together in the vinyl case, Sublime Beauty® offers a 22% introductory discount.
"This skincare set is for optimal care of skin," says Heshelow.