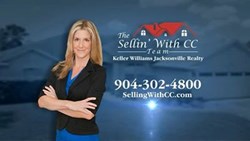 Jacksonville, Florida (PRWEB) February 06, 2014
If Sunday's game between Denver and Seattle was too painful to watch, those in the Jacksonville area had at least two bright spots on their televisions: The Sellin' With CC Team, headed by realtor CC Underwood of Keller Williams Jacksonville Realty, released two new commercials geared towards home buyers as well as those looking to sell their homes.
One of the commercials is geared towards those looking to sell their homes, while the second pertains to potential home buyers in the area. The Sellin' With CC Team is also going into its second year as an affiliate of the Homes for Heroes program, a national organization which rebates a portion of an agent's commission to home buyers and sellers who are current and former military service members.
For more information on CC Underwood and the Sellin' With CC Team, visit SellingWithCC.com or contact the team at 904.252.1158.
Media Inquiries Can Be Directed to Robert Eleazer, Marketing Coordinator, at robert(at)sellingwithcc(dot)com or at 904.828.9788.