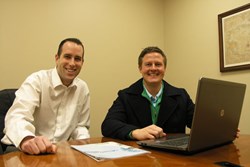 "We always strive to provide personalized service, and this new chat feature is a way to do it in a simpler interface with a quicker turnaround." -Brent Kramer, E-Commerce Manager for ORSupply.com
Louisville, KY (PRWEB) February 06, 2014
ORSupply.com — an online medical supplies and accessories division of DRE, Inc. — is pleased to announce the launch of its new built-in chat feature, an interface that gives the customer instant feedback from its sales team.
With ORSupply.com's integrated chat, customers can make simple queries about products and receive answers in an instant messaging format.
Brent Kramer, e-commerce manager for ORSupply.com, said he's looking forward to helping customers in this new format.
"One of the unique things about ORSupply.com is that we go above and beyond for the customer," Brent said. "We always strive to provide personalized service, and this new chat feature is a way to do it in a simpler interface with a quicker turnaround."
In addition to the new ORSupply.com's chat feature, U.S. based customers can still shop from the company's online catalog of 30,000 products at ORSupply.com and pay via a secure checkout process.
Overseas customers can explore ORSupply.com's catalog and website, then contact the expert sales team to arrange payment and shipping. For both domestic and international customers, questions about equipment and services handled primarily through email, or phone now have chat as an added communication channel.
ORSupply.com is essentially a one stop shop for all of the non-capital equipment needs of any surgical center or operating room.
The company carries nearly every medical accessory available, and can usually secure it even if a product isn't listed. The sales team at ORSupply.com has a great working relationship with its 200 healthcare suppliers, making sure it finds items customers need.
About ORSupply.com
ORSupply.com is a division of DRE, Inc. that specializes in selling and distributing medical accessories and supplies to hospitals, surgery centers, clinics, research labs and medical facilities across the United States. ORSupply.com's goal is to provide medical professionals with a one-stop destination for researching and purchasing medical accessories and supplies.