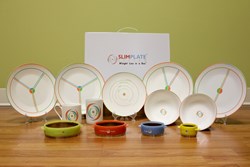 ...Effective weight loss includes forming a diet with real food...
Rock Hill, SC (PRWEB) February 13, 2014
Yo-Yo dieting is not an effective weight loss option. If a diet does not require a change in eating habits, than it will not provide long term results. When a product exclaims you can lose a large amount of weight for little time, this will be subject to rebound weight gain when the diet is discontinued. One can not live off of a diet pill or a low amount of calorie intake to keep the weight off. Effective weight loss includes forming a diet with real food, and forming better eating habits through experience.
The SlimPlate System is a portion control kit provides lasting results with no side effects. The kits consists of plates, bowls, cups, and smart cutters to ensure maximum weight loss results. The system encourages users to boost their metabolism by eating five times a day. The SlimPlate System keeps users from feeling deprived of meals, and keeps them energetic.
Along with the SlimPlate System, the creators are offering a new Online Weight Loss Program "Shaping the Perfect You". This program is a four month lifestyle change that enables one to lose weight the healthy way. The program offers a step by step approach to effective weight loss from a bariatric physician. Registration can be completed online, by filling out an easy, simple form. The next session is February 10, 2014.
Dr. Nwe is a Diplomate of the American Board of Obesity Medicine and is Board-Certified in Internal Medicine. She co-founded the Ace Medical Weight Loss Center and co-created the SlimPlate System with Dr. Grewal. Sandeep Grewal, M.D. is Board-Certified in Internal Medicine and was the recipient of The Charlotte Business Journal's Health Care Innovator Award for 2012, and also named to the Top Forty Under Forty List in 2013.
For complete information on four month weight-loss through portion control, visit the http://www.SlimPlate System.com.
Media Contact:
SlimPlate System
Attn: Amy Coleman
744 Arden Lane, #100
Rock Hill, SC 29732
803.325.1111