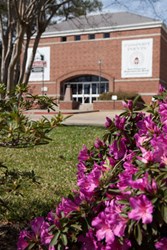 We're bringing Centenary to your doorstep. We look forward to meeting future Ladies and Gents and giving them a preview of their new home.
(PRWEB) February 05, 2014
Centenary's Office of Admission will host a Centenary Preview program in Dallas for prospective students on Saturday, February 15, from 10 a.m. to 12 p.m. at the Hilton Park Cities. Same-day admittance is available to those who qualify and bring transcripts, standardized test scores, and a recommendation letter. The event is free and open to the public.
"We're bringing Centenary to your doorstep," said Tommy Newton, Director of Admission. "We look forward to meeting future Ladies and Gents and giving them a preview of their new home."
Centenary faculty, administrators, and athletic staff will be on hand to answer questions from prospective students and families. Participants will also enjoy a student panel of two current students from the Dallas area discussing their experience. Two information sessions will offer information about the admission process and financial aid opportunities.
Attendees will also learn about the Centenary Experience and study abroad opportunities such as Centenary in Paris. Centenary in Paris is an August segment in which all first-year Centenary students in fall 2014 will begin their college experience with immersive study in Paris, France.
Centenary College is giving students the opportunity to do More in Four. Through immersive segments in August and May, students will be able to earn up to 40 credit hours each year. The ability to earn more credits in a year will give students more time to spend on activities like international study, global service, original research, or getting a jump start on graduate or professional studies – all while still completing a Bachelor's degree within four years.
Visit the Hilton Park Cities and learn why Centenary is a Tier One National Liberal Arts College. High school or transfer students interested in attending can R.S.V.P. online. The hotel is located at 5954 Luther Lane, Dallas, Texas 75225. For more information, contact the Office of Admission at 718.594.4004.
About Centenary College of Louisiana
Centenary College of Louisiana is a selective, residential, national liberal arts college affiliated with the United Methodist Church. Founded in 1825, it is the oldest chartered liberal arts college west of the Mississippi river and is a member of the Associated Colleges of the South.