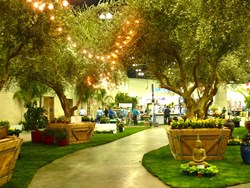 Carpinteria, CA (PRWEB) February 05, 2014
Eye of the Day Garden Design Center, the leading importer of authentic European terra cotta, and Vecchio Trees, provider of fine specimens, are partnering to create a stunning entry garden at the Landscape Architects' Expo in Long Beach, California, on February 13th and 14th.
This partnership is part of an ongoing collaboration between the two companies, who together designed the entry garden at January's Landscape Industry Show at the Los Angeles Convention Center.
"This a huge opportunity for us to show our most important clients what we offer and how combining our two products together make for a powerful environment and design statement. The landscape design community will see first-hand the finest garden containers offered in the market today along with the most stunning display of olive trees available," says Eye of the Day owner Brent Freitas.
The Landscape Architects' Expo (LA Expo) is a regional trade show and educational conference at which landscape architects and designers can be educated, explore new products and technologies, and establish business relationships.
The expo will feature over 130 exhibitors, thousands of design elements, 7 major associations, nearly 30 seminars, a panel discussion by landscape firm MIG, the CLASS Fund Senior Student Showcase, as well as a charity reception that will benefit the Landscape Architecture Foundation and honor landscape architect leaders.
Admission to the exhibit hall is free with Pre-Registration, which can be accessed at LandscapeOnline.com via the LA expo homepage (http://www.landscapeonline.com/research/LASN-Expo/PR-1.php). All Pre-Registered attendees will receive their EXPRESS Badge in the mail prior to the expo.
For more information about Eye of the Day Garden Center and to browse the website, visit eyeofthedaygdc.com.
About Eye of the Day Garden Design Center
Eye of the Day Garden Design Center is a retail showroom featuring more than an acre of high quality garden products, including Italian terra cotta pottery and fountains, Greek terra cotta and French Anduze pottery, as well as products from America's oldest pottery manufactures Gladding McBean, EOTD also carries premier concrete garden pottery and statuary manufacturers. Eye of the Day is a leading importer of fine European garden décor, and caters to private consumers, as well as landscape and design professionals around the world.