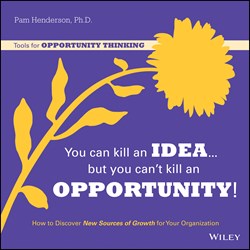 Richland, WA (PRWEB) February 06, 2014
"You Can Kill An Idea, But You Can't Kill An Opportunity" received a featured review in the Research Technology Management Journal, a publication of the Industrial Research Institute, the leading source for R&D innovation leadership solutions for member organizations. The book, by first time author and entrepreneur Pam Henderson, PhD, is a primer on Opportunity Thinking, a unique process that shifts the focus from ideas and problem-solving to opportunity driven.
"You Can Kill An Idea…" was reviewed by M. Ibrahim Sezan, Qualcomm, Senior Director of Technology, who found the book to be "colorful, fun to read and full of real world experiences….sufficiently compelling to shift mindsets and make readers into Opportunity Thinkers." Sezan goes on to ask readers to ponder the appeal of Opportunity Thinking for organizations: "looking at our organizations through the eyes of opportunity, we can see tensions as the potential for something bigger and interact with our colleagues as the collaborators they can be."
"You Can Kill An Idea But, You Can't Kill an Opportunity" was published by Wiley, a trademark of John Wiley & Sons in October 2013. An e-copy of the full review is available by contacting Michele Taussig at the Industrial Research Institute at Taussig (at) iriweb (dot) com or703-647 2588. Follow Pam on Twitter: @NewEdgeTeam or to learn more about Opportunity Thinking and author Pam Henderson, visit http://www.pamhenderson.com.
###