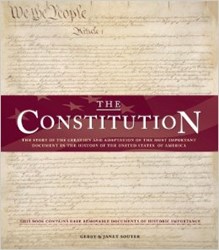 Government by the people can be subject to human imperfection. This book concentrates on challenges to our Constitution through generations of interpretation.
San Diego, CA (PRWEB) February 05, 2014
Thunder Bay Press, publishers of high-quality reference books on a variety of subject matter, recently announced the fall 2013 release of The Constitution—The Story of the Creation and Adaptation of the Most Important Document in in the History of the United States of America (November, $29.95, 96 pages).
The US Constitution is America's instruction book. Historians might agree that this singular document has been responsible for creating the most successful democratic republic ever created. In this engaging compilation of the events of the period in American history beginning shortly after the Revolutionary War and ending with the conclusion of World War II, the reader will learn about the many pieces of legislation crafted over three centuries. This educational book is comprised of eleven information-packed chapters covering subjects such as the Declaration of Independence, the Bill of Rights, slavery, prohibition, civil rights and many others. Also contained in the pages are removable facsimiles of eight historic documents including The Articles of Confederation, the Thirteenth Amendment and more. Perfect for history buffs, this handsome book will make a great addition to any home library.
About the Authors:
Gerry and Janet Souter are noted American historians who have authored 51 books including several on U.S. presidents. Gerry has also earned several awards in the video production field, while Janet is an accomplished journalist. They are the authors of The Founding of the United States Experience, Founding Fathers: The Shaping of America, and The Vietnam War Experience. They are available for interviews and guest blogger spots.
The Constitution is currently available online at amazon.com and barnesandnoble.com, and can be found wherever fine books are sold.