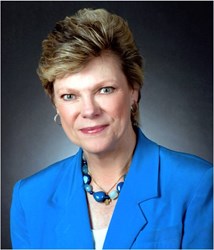 Washington, DC (PRWEB) February 05, 2014
Cokie Roberts, best-selling author and award-winning journalist, has been confirmed as the keynote speaker for the 2014 annual conference of WTS International, the association for the professional advancement of women in transportation that will take place May 14 - 16, 2014, in Portland, Oregon.
"When we plan the conference each year we seek to provide our members and supporters with a keynote presentation that touches on the core of our mission, and Ms. Roberts epitomizes our association's guiding mission of attracting, retaining, and advancing women in transportation, an industry with very few women in top roles and few young women focused on STEM studies or entering this important industry," said Margaret Mullins, director of the WTS Annual Conference. "Cokie Roberts, an icon in the media and a role model herself, will be talking to conference attendees about the drive, determination, creative insight, and passion of the women who raised our nation to illuminate the social issues effecting women today."
"The transportation field is among the world's most male-dominated industries," said Marcia Ferranto, WTS International's President and CEO, "and as WTS members work to help each other develop professionally and climb through the ranks in both the public and private sectors, we can take pride in knowing that we are helping to build the world's infrastructure through the advancement of women, and shaping future generations of transportation leaders. Ms. Roberts' remarks will certainly inspire this association further when she addresses them in May in Portland."
The Annual Conference is WTS International's flagship event. It attracts more than corporate and governmental industry leaders worldwide, including executives, CEOs, government administrators, and leading transportation authorities. Attendees at the conference gather to network, discuss the state of the world's transportation infrastructure, strategize on advancing professionally through glass ceilings, and explore the local city's successful municipal and private transportation and transit projects. For the full duration of this year's Portland conference, private corporations, public agencies and government officials invested in every transportation mode will exhibit, present, learn, and network.
Cokie Roberts is a political commentator for ABC News, providing analysis for all network news programming, as well as for NPR. In her more than 40 years in broadcasting, she's won countless awards, including three Emmys. She's been inducted into the Broadcasting and Cable Hall of Fame, and was cited by the American Women in Radio and Television as one of the 50 greatest women in the history of broadcasting. In addition to her appearances on the airwaves, she's a contributing editor to USA Weekend Magazine, and she co-authored From this Day Forward, an account of her more than 40-year marriage and other marriages in American history. The book immediately went onto The New York Times "best sellers" list, following her number one best seller, We Are Our Mothers' Daughters, an account of women's roles and relationships throughout American history. Ms. Roberts' histories of women in America's founding era, Founding Mothers, published in 2004, and Ladies of Liberty published in 2008, also became instant best sellers. Ms. Roberts holds more than 20 honorary degrees, serves on the boards of several non-profit institutions and on the President's Commission on Service and Civic Participation. In 2008, the Library of Congress named her a "Living Legend."
For more information on the 2014 Annual WTS Conference, visit http://www.WTSinternational.org or contact Margaret Mullins, Operations Director, at 202-955-5085.
***
WTS International, headquartered in Washington, DC, is an international organization dedicated to building the future of transportation through the global advancement of women in the transportation industry. WTS seeks to attract, retain, and advance women through its professional programs, networking opportunities, and unparalleled access to industry and government leaders. More information can be found at http://www.WTSinternational.org.