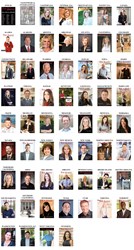 Los Angeles, CA (PRWEB) February 07, 2014
Demand from savvy real estate agents eager to be featured on the cover and readership that continues to increase across the country has prompted Top Agent Magazine, the industry's leading publication for and about real estate agents, to expand. Top Agent now has an edition in all 50 states, along with regional and international editions.
Top Agent magazine, which first launched in Los Angeles just as the market was heading for its most challenging period since the early '90s, managed to thrive during the real estate downturn; today, the magazine is reaping the benefits of smart business practices and a central principle that has never wavered: to be a platform and a trusted resource for real estate agents.
"We have always stayed focused on what we do, which is feature the top agents in the business," said Top Agent executive publisher Jessica Fisher. "We give an in-depth look into the top agents in every state and in international markets like Canada and throughout Europe and provide a blueprint for their success."
The agents who are featured are the true beneficiaries of Top Agent's success.
The magazine that just recorded its 2000th edition seeks out top real estate producers by nomination for its cover stories as well as the Rising Stars section inside. Cover features are determined by the publishing staff based on nominations (information on the nomination process and forms can be found here) and those who are honored with a feature position understand the value; so coveted is a position on the cover of the most competitive editions of the magazine that some top agents wait more than a year for their chance to be featured.
Top agents like Valerie Fitzgerald of Beverly Hills, Joyce Coletti in New York, and Dara Allen in Austin, TX have all been features—some multiple times. Read some of the magazine's testimonials from Top agents here.
For more information on Top Agent magazine, visit their website, on their Facebook page, or on Twitter.