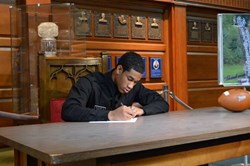 Fork Union, VA (PRWEB) February 05, 2014
The first Wednesday in February is always a big day at Fork Union Military Academy. It is National Signing Day, when our top football players begin making their commitments to play at the colleges of their choice, often as the recipients of sizable athletic scholarships. Today was no exception, as a large number of our varsity football players found homes in outstanding college programs. A number of our postgraduate players have already left campus to enroll early in college, but those remaining on campus attended our National Signing Day ceremony in the Estes Athletic Center bright and early this morning.
In a week that began with Fork Union alumnus Akeem Auguste celebrating his team's Super Bowl victory as a member of the Seattle Seahawks, and at least two former Fork Union cadets already being projected to go in the first round of the 2014 NFL Draft, these current FUMA players are beginning their own journey to the next level, following in the footsteps of hundreds of college players and more then eighty NFL players who can find their pictures in the yearbooks of Fork Union Military Academy.
Thirty-three players from the varsity team coached by longtime Head Coach John Shuman, have found homes at the next level, with several more still considering scholarship offers.
Andre Addison – Marshall University
Jacob August – University of South Carolina
Michael Bagley – University of Miami
Brandon Bailey – Savannah State
Jamie Bowe – Tennessee Martin
Corwin Cutler – University of Virginia
Jacob Fieler – University of Virginia
Holland Fisher – Virginia Tech
Darius Garcia – Old Dominion
Ryan Gould – Hampton University
Derwin Gray – University of Maryland
Jeremiah Hamlin – University of Richmond
Marquis Haynes – University of Mississippi
CeQuan Jefferson – Temple University
Jaylen Johnson – Charleston
Ryheem Lockley – Temple University
Jalen McGriff – Savannah State
Will Mendoza – Marshall University
Demory Monroe – Jackson State
Seth Meyers – Ohio University
Tristan Nickelson – Navarro Junior College
Kyrin Priester – Clemson University
Karlon Quiller – Bloomsburg
Daniel Reid – Virginia Tech
Sidney Sandidge – Youngstown State
Matt Santer – Marshall University
Malik Scott – Seton Hill
Tino Smith – Savannah State
Linden Stephens – University of Cincinnati
Malik Thompson – Marshall University
Andrew Verboys – University of Massachusetts
Russell Walton – University of Rhode Island
Connor White – Texas State University