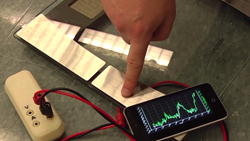 The Mooshimeter gives users a level of diagnostic insight impossible with a standard multimeter.
Somerville, MA (PRWEB) February 06, 2014
A next-generation electrical instrument that will make diagnosis easier for engineers and technicians flew past its pre-order campaign goal on Dragon Innovation with over a month left in the campaign.
The instrument is called the Mooshimeter, and was developed by electrical engineering consultancy Mooshim Engineering through 5 generations of working prototypes. The device overcomes many of the limitations taken for granted in standard multimeters by connecting wirelessly to the user's smartphone.
The device features simultaneous voltage and current measurement, data logging, and a 150-foot wireless range. This facilitates power measurements that are impossible with a standard meter. It also allows the user to maintain distance with the circuit under test - a safety boon when working on vehicles and robots.
The Mooshim team continues to attract visitors from new industries by demonstrating applications of the Mooshimeter that are either impractical or impossible with a standard meter. They have been posting new applications regularly to their blog.
Mooshim will begin regulatory certification processes for the device at the end of the crowdfunding campaign in mid-February and is scheduled to ship in the summer.