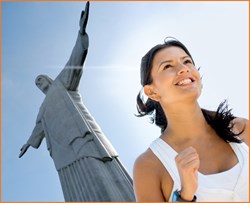 No true soccer fan wants to miss this once-in-a-lifetime event, unimaginable thrills and drama that will be the Brazil World Cup.
Rio de Janeiro (PRWEB) February 06, 2014
VIP Tour Group, a proven leader in luxury travel to Brazil and all of South America for more than a decade, announces premium travel planning through its one-stop shopping site, BrazilWorldCupPackage.com.
When the greatest event in all of sports kicks off in Brazil on June 12, 2014, a dozen of Brazil's most famous cities will host 64 matches in an action-packed 31 days. Soccer fans attending the matches should follow this link http://www.BrazilWorldCupPackage.com to oversee the entire 2014 Brazil World Cup schedule, along with various stadium and World Cup information about each host city.
VIP Tour Company stands ready to assist travelers with the information needed, as pertains to travel distances, times, and the detailed information required in each city visited. When the final flag is raised, stopping play, one team will prevail. No true soccer fan wants to miss this once-in-a-lifetime event, unimaginable thrills and drama that will be the Brazil World Cup.
Be sure to check out the 2014 FIFA Brazil World Cup Match Schedule and find out more information about each of the 12 World Cup Stadiums.
VIP Tours offers not only World Cup experts on hand to assist you, but VIP supplies specialized expertise gained as it has grown to become the leading and preferred supplier of Brazil travel for a pair of the world's largest travel networks, Signature Travel Network & Travel Leaders. Dealing directly and exclusively with various National teams and organizations, guarantees you the best tickets and experience possible. As a leading member of the Brazil Tour Operators Association (BTOA), you are assured of the best accommodations possible in any city.
An experience to the 2014 Brazil World Cup is not complete without exploration of Brazil's famous beaches, culture, and ecological diversity, and there's no business better prepared to assure you the greatest experience than a trusted company known as the planet's top supplier of Brazil travel. 2014 World Cup in Brazil is not to be missed.
About BrazilWorldCupPackage.com and VIP Tour Group: VIP Tour Group is a USA-based tour operator specializing in life experiences in South America. We storyboard and customize each trip to your particular needs. Our experienced team of trip designers has personal knowledge of all the areas featured. From our extensive ground research, we have become experts in fine-tuning plans so that wherever you go suits you perfectly. We believe that we can offer the best advice and service because we specialize only in South America and our team is equipped with the language, cultural, and local knowledge of each destination. Contact our Trip Designers to customize your journey at 800-772- 9188.