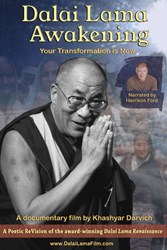 "It is the film that my heart and soul wanted to make," says Director Khashyar Darvich of Dalai Lama Awakening.
Apple Valley, California (PRWEB) February 15, 2014
The Hi-Desert Center for Spiritual Living in Apple Valley, California and Wakan films presents a Preview Screening of Director Khashyar Darvich's documentary film, Dalai Lama Awakening, on Friday, February 28th at 7pm. View the trailer at dalailamafilm.com. This is a re-visioning of Darvich's award-winning film Dalai Lama Renaissance, which won 12 film awards.
"Dalai Lama Awakening" is a film that presents the spiritual transformation that occurred when leaders such as Michael Beckwith, Amit Goswami, Jean Houston and others met with the Dalai Lama. "This is a film without compromise, it is something pure, fulfilling and complete. Dalai Lama Awakening inspired me and moved me at a profound level," says Director Khashyar Darvich.
With 35 minutes of new previously unseen footage and a completely new music soundtrack this is much more than a Director's Cut of the original film "Dalai Lama Renaissance".
As a special addition, the preview screening will be immediately followed by a Q & A with Director Khashyar Darvich. General Admission tickets are $20.00 seating is limited. The Hi-Desert Center for Spiritual Living is located at 18575 Corwin Rd, Apple Valley, CA - hdcsl.com.