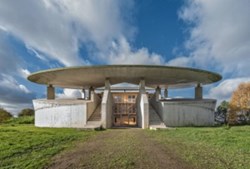 Rocket Base Hombroich is a gem for architecture enthusiasts.
Düsseldorf, Germany (PRWEB) February 06, 2014
When New York City-based architect Raimund Abraham died in a car accident in Los Angeles on March 4, 2010, his design for a building on a former NATO rocket base in Germany had been finalized and construction begun. The building was completed in December 2013, and is now an integral part of the cultural sphere Hombroich, a fascinating art and exhibit center that is both a park and a museum and combines architecture, art and nature on more than 60 acres near Düsseldorf. The area includes also the Museum Insel Hombroich (museum island Hombroich), founded in 1987.
The story of Abraham's design from sketch to new art center began in 1996, when a rendering of the sculptural building by Abraham was exhibited at the Architecture Biennale Venice and caught the eye of sculptor Erwin Heerich, who connected Abraham with the founder of Museum Island Hombroich, Karl-Heinrich Mueller. Mueller invited Abraham to see the art island's former NATO missile base (called "Rocket Base"), and Abraham was immediately inspired. Other renowned architects, including Alvaro Siza and Tadao Ando, also designed buildings at the Rocket Base Hombroich, making the area a gem for architecture enthusiasts.
The cornerstone for the Abraham building was laid in 2006. Its focal point is a concrete disc almost 110 feet in diameter, which seems to float in the air despite weighing 1,500 tons. The disk is slightly tilted and has at its center a triangular opening that points at the tower sitting as a relic on the former NATO rocket base.
The building features four two-story rehearsal spaces, a studio, a communal area, four living units, a library space, a courtyard, and a subterranean arena. The building offers many options for usage, and proposals for its eventual purpose were solicited in a competition and are currently under review.
The cultural sphere Hombroich, Rocket Base, and Museum Insel Hombroich, are only about 10 miles from the center of Düsseldorf, and can be reached easily by car and public transportation.
Fore more information on Museum Island Hombroich and the new building at its Rocket Station, visit http://www.inselhombroich.de.
For more information on the destination and art city Düsseldorf, visit http://www.visitduesseldorf.de.
Düsseldorf's tourism office is offering hotel and city specials for visitors interested in the extensive art scene of the city and region throughout 2014. Packages, called "Welcome2Art" can be booked right from the tourism office's website at http://www.duesseldorf-tourismus.de/nc/en/hotel-packages/hotel-package-welcome2art/. Prices start at €58 per night per person based on double-occupancy for a 2-3 star hotel in the city center and at €93 per person for a 4-5 star hotel. All packages include breakfast, a Düsseldorf Welcome Card (free public transportation within city limits plus 30 free or reduced admissions to city attractions), 1 ticket to the permanent collection at the Museum Kunstpalast, 1 ticket to the permanent collection at the Kunstsammlung NRW, K20 Grabbeplatz, and a city information package. Some art-related hotel packages also include admission to current exhibits. Please check the website for current information.
# # #
Düsseldorf Marketing & Tourism GmbH is the visitors and convention bureau of the city of Düsseldorf. Its responsibilities include tourism and city marketing, as well as conference and meeting marketing, hotel reservation services, fairs and convention services, city event ticket sales and advance ticket reservations. For more information, visit http://www.visitduesseldorf.de.
Düsseldorf Airport, Germany's Next Generation HubTM, offers several non-stop flights from US & Canadian cities (Atlanta, Chicago, Ft. Myers, Los Angeles, Miami, New York, Newark, Toronto), as well as convenient connections to many European cities. For more information about the airport, visit http://www.dus.com.