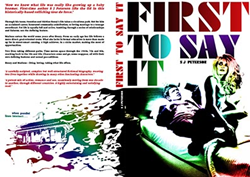 Baby Boomer Romp Hits Kindle Screens.
Melbourne, Victoria (PRWEB) March 04, 2014
"People were hard at work studying, building careers, and creating families at this time, but their private desires were equally important. The restrictions and austerity of the 40s and 50s were gone, the pill had arrived, women were more independent; experimentation was common and hedonism rife," Peterson said.
Peterson's meaty novel First To Say It chronicles the life of boomer Henry during these decades. Born and raised in Australia, sex becomes a defining aspect of his life, his adventures and liaisons taking the reader much further afield – England, Germany, Japan, Morocco, the United States.
"Like many of his time, Henry is a pleasure-seeker. But also he's thoughtful and sensitive. Away from the bedroom he can handle himself well too, in a fight, a high speed car chase, or a serious conversation," Peterson explained.
Peterson's style of writing is precise and descriptive, whatever the kind of action. The reader is directly involved, whether in the bedroom, the front seat of the car, or a multitude of other locations explained with clarity and thoroughness. The many characters are as real and believable as anyone we might come across, but often with a twist.
"It wouldn't surprise me people quietly saying 'that was me back then' as they read through, whether the character is a pre-teen making use of her developing bumps and curves, a staid accountant reminiscing about a once-only experience, a young beauty attracted to someone a lot older, a pair of teens cavorting in the rear seat, a Middle Eastern beauty finding sex the universal language, or two young men rekindling a boyhood friendship that will last a lifetime. There are plenty more. There's something quirky about all my characters because that's how people really are."
Readers will no doubt also be left wondering whether they'd rather see the novel converted to the big screen and experience it in one hit, or the smaller screen spread over several weeks, with greater scope to portray the numerous flashbacks, international settings and interweaving relationships.
Kindle are now offering an exclusive free promotion of First To Say It for a limited time, with release on other formats expected in March 2014.
About the author, SJ Peterson:
Australian-born SJ Peterson is a person of many interests, foremost among them writing. A legal education coupled with a fascination in twentieth century European history has set a standard for accuracy and authenticity. Residence in the UK and Japan, along with extensive travel and an active social life, have provided rich fodder for story ideas and characters. Now semi-retired, publication of first to say it has been a labor of love for SJ Peterson over more than ten years.