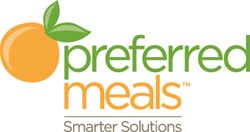 Oakland, CA & Berkeley, IL (PRWEB) February 06, 2014
Preferred Meals, Inc., one of the country's largest and most respected suppliers of healthy, affordable and well-balanced meals to public and private school districts and charter schools announces that it has been selected to participate in the 2014 School Food FOCUS National Gathering Vendor Showcase in Oakland, California on February 7, 2014. Preferred Meals will be sampling a new oven-roasted chicken drumstick raised without antibiotics.
FOCUS is a national collaborative that leverages the knowledge and purchasing power of large school districts to make school meals nationwide more healthful, regionally sourced, and sustainably produced. Over 250 school food service professionals, community and national partners, government representatives, vendors, funders, and other healthy meal advocates will gather to make groundbreaking strides in school food procurement.
"We are very excited and honored to be selected to participate in the 2014 School Food FOCUS National Gathering Vendor Showcase. We appreciate the opportunity to participate and be able to sample our new healthy chicken drumstick," Clare R. Keating, SNS, Vice President of Marketing, Preferred Meals Inc., said.
Preferred Meals and other participating vendors are chosen by a selection committee including school food service professionals and FOCUS staff. All products sampled here must meet strict product criteria.
Food service professionals will have the first opportunity to sample Preferred's new, healthy, oven-roasted, low sodium, fully-cooked chicken drumstick. The chickens are raised without antibiotics and without the use of any arsenic in feed served.
The Preferred Meals mouth-watering farm-raised chicken drumsticks do not contain any artificial colors, flavors or sweeteners and fully meet the USDA regulations for the National School Lunch Program. Preferred Meals is now offering the chicken drumsticks in 40, 80 and 135 case pack servings.
"We are very confident students will eat and enjoy our savory new, healthy chicken drumsticks at mealtime," Keating added.
Since it was founded 46 years ago, Preferred Meals has successfully evolved to become a national supplier of healthy, fresh and pre-plated component meals. Today, Preferred Meals serves public and private school districts and charter schools in 29 states with 2,300 employees. It operates three central kitchen operation facilities as well as distribution centers across the country.
Preferred Meals
Since 1967, Preferred Meals headquartered in Berkeley, Illinois supplies healthy, fresh and affordable well-balanced meals in public and private school districts and charter schools throughout the United States. In addition to serving wholesome and affordable meals, Preferred Meals offers school foodservice operators menu-planning and development, training and equipment. The company provides breakfast, lunch and after-school dinner meals during the school year as well as to summer nutritional meal programs. For further information about Preferred Meals, visit http://www.preferredmeals.com.