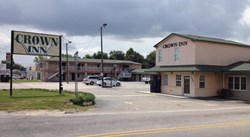 "Our aim is to make each and every minute of our customers' time pleasurable and worthwhile..."
Fayetteville, NC (PRWEB) February 06, 2014
Greenbee Parking, a growing airport parking firm, has announced that Crown Inn will be their new business partner in Fayetteville. This partnership will enable them to offer their clients better locations for their vehicles from now on. For travelers who use the Fayetteville (FAY) airport very frequently, this is especially welcome news since they will now have more options to choose from for their long term parking needs and that too within their travel budgets. The buzz-phrase for the times is "value for money" and one can only get that with services like Greenbee Parking which offers excellent parking options at very affordable FAY airport parking rates. There is also no need to book a room at the Inn to get a great parking spot there, just the Greenbee booking receipt is enough. This partnership is aimed to make the travel and parking experiences in Fayetteville better than ever.
"Our aim is to make each and every minute of our customers' time pleasurable and worthwhile when they travel," said Christine Cooper – Marketing Coordinator, Greenbee Parking. "The partnership with Crown Inn and the reduced FAY airport parking rates will help us serve our growing clientele better and ensure that they have an unforgettable travel experience minus the usual rush and hassles that plagued them before."
Fayetteville Regional Airport Parking Information
The Fayetteville Regional Airport is a mid-sized airport and yet serves a huge 12-county area in the Sandhills of southern North Carolina. Therefore, it keeps super busy round the year which is further fueled by its proximity to the central business district of Fayetteville and the I-95 corridor. It connects with all the major domestic destinations and has recorded almost 260,000 passenger enplanements in last few years. It acts as hub for all major national carriers which again, add to its business. Cargo movement, commercial traffic, business and leisure travelers all combine to make both air and ground traffic busy.
There are major changes being planned to improve and ensure positive passenger experience. The airport authorities as well as independent service providers like Greenbee Parking have come up with a lot more parking options for travelers to choose from and park without hassles. It is not just easy to book and park now but one can get these upgraded services without paying high FAY airport parking rates. Now it is perfectly possible to save anywhere from 30-75% on parking expenses for both long and short term parking needs.
The Greenbee Airport Parking Solution
Greenbeeparking.com is the connection between consumers and parking vacancies in close proximity to major airports and seaports. The parking spaces are very affordable because the company has negotiated discounted rates with major hotel chains for the parking spaces that are not currently occupied. Here's how it works.
Greenbee Parking puts the available inventory of parking spaces on their website to be reserved by business and leisure travelers looking for cheap airport parking. This alternative method for finding parking equates to significant savings for the traveler. You can learn more about their offers from (http://youtu.be/RWc3dqhugFA) or via the web at (http://www.greenbeeparking.com).
About Greenbee Parking
Greenbee Parking is the nation's most innovative long term parking company, with a new way of making long term parking affordable. The company is rapidly adding new airports to its network.