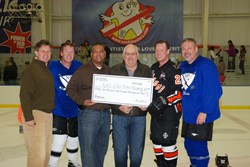 Philadelphia, PA (PRWEB) February 06, 2014
NHS Human Services Foundation will host the 10th Annual Goals for Giving Hockey Benefit on Sunday, March 23, 2014 from 1:30 p.m. to 3:30 p.m. at the Flyers Skate Zone in Northeast Philadelphia. Each year, the Philadelphia Flyers Alumni Team laces up its skates to challenge the NHS Human Services Blues team to raise money to support the mission of the NHS Human Services Foundation. Organizers hope to raise $100,000 through the event.
"Goals for Giving is one of the highlights of the year for all involved with NHS," said M. Joseph Rocks, Chairman and CEO of the organization. "Last year's event raised more than $83,000 for NHS programs and we look forward to an even bigger event this year."
Philadelphia Flyers alumni players scheduled to participate include: Brian Propp, Frank Bialowas, Todd Fedoruk, Joe Watson, Mitch Lamoureux, Bob Kelly, Andre Faust, Rob MacInnis, Dave Parro, Charles Zingoni and Ray Allison. The NHS Human Services Blues team will be comprised of employees and friends of NHS Human Services. To date, the Blues have never won a game.
"This event has been successful because of how inclusive it is for everyone," said Brian Propp, NHS board member and former Philadelphia Flyer. "We have virtual players participate which allows people who are unable to attend or who don't skate to get involved."
Following the game, Chickie's & Pete's Crab House & Sports Bar – located at 11000 Roosevelt Boulevard – will host an after party from 3:30 p.m. to 6:30 p.m. It will feature a Meet & Greet giving supporters the opportunity to meet the Flyers Alumni team members. Tickets for the after-party are $20 each and can be pre-purchased online or at the door.
Over the past nine years, the NHS Human Services Foundation Goals for Giving Hockey Benefit has raised nearly $270,000 to support the programs and services of NHS Human Services, one of the nation's leading community-based human service organizations. For more than 40 years, NHS has provided assistance to children and adults in the areas of mental health, addictive diseases, developmental disabilities, autism, juvenile justice, therapeutic foster care and education services.
Tickets for the hockey benefit are $10 per person; tickets for the after-party are $20 per person. For more information or to purchase tickets, visit http://www.goalsforgiving.org.
The NHS Human Services Foundation is the charitable arm of NHS Human Services, one of the nation's largest providers of human services. Through its fundraising activities, the Foundation enables NHS programs a chance to provide the highest quality of care to all consumers despite public funding cuts and the stressed economic climate. The Foundation subsidizes where funding falls short, in an effort to provide seamless, uninterrupted care for the individuals who depend upon NHS services.