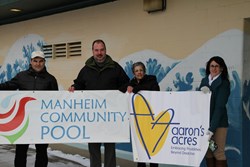 This past year was huge for us with acquiring office space and bringing camping programs to two new locations.
Lancaster, Pa. (PRWEB) February 06, 2014
There's nothing attorney Bill Zee likes to see more than the recent growth of one of his favorite nonprofit organizations—Aaron's Acres. The organization provides innovative social and recreational programs for individuals with special needs in an atmosphere of acceptance that embraces the child and family.
Zee, a partner at law firm Hartman Underhill & Brubaker, LLC (HUB), has served as a member of Aaron's Acres' Board of Directors for seven years and his guidance, along with the support of the rest of the legal team at HUB, has been instrumental in the organization's recent relocations and growth.
"This past year was huge for us with acquiring office space and bringing camping programs to two new locations," said Executive Director Risa Paskoff. "Bill has been really helpful with the multitude of contracts and agreements involved and also with getting increasingly formalized processes and procedures in place," she said.
Aaron's Acres announced recently a new partnership with Manheim Borough's Community Pool and Memorial Park as the site of its Lancaster Summer Camp 2014. After an intensive search in Lancaster County by a committee of board members, staff, and community volunteers, Aaron's Acres found this site met its criteria for a camp facility.
For the past fifteen years, Aaron's Acres had held its Lancaster programs at the Lancaster Jewish Community Center (JCC), which recently sold its property. Consequently, Aaron's Acres needed to find a new home for its Lancaster programs.
"This was a most challenging task," explained Paskoff, "as we have approximately 120 children who attend our camp programs during five weeks and more than 50 staff members. Due to our children's needs, we have specific requirements that must be met," she said. "Our board members, like Bill, as well as our other community volunteers, have really seen us through this challenge."
"It is a real pleasure to be able to assist an organization like Aaron's Acres in serving our community," said Zee. "The opportunities this organization is able to provide for individuals with disabilities to engage in innovative and unique social and recreational programs is a tremendous resource," he said.
About Aaron's Acres
The mission of Aaron's Acres is to provide individuals with special needs age 5-21 year-round therapeutically based recreational programs directed by specially trained and certified staff in a supportive environment that enhances socialization and communication skills. Emotional, educational, and recreational support is offered for the entire family.
"Embracing possibilities beyond disabilities" is the philosophy of Aaron's Acres, a 501 (c) (3) non-profit organization founded more than 15 years ago in Lancaster by a group of parents who wanted to provide summer camp experiences for their children who had special needs. With assistance from the Special Kids Network, a program of United Disabilities Services (UDS), a one-week summer camp program was established in Lancaster County. Eleven children aged 4-9 participated in the first year. Aaron's Acres became a program of UDS for approximately five years before becoming an independent non-profit organization in 2007. A summer camp program was established in Berks County in 2000, followed by one in Dauphin County in 2006.
In 2013, more than 200 children and young adults with special needs participated in 11 weeks of camp across three counties; more than 60 are currently enrolled in the 2013-2014 school-year program in Berks and Lancaster Counties. Aaron's Acres partners have included Milagro House, GAIN, and Greystone Therapeutic Riding Stables in Lancaster County; Shady Hollow Farms, Kennedy House, St. Joseph's Villa at Alvernia University, Berks Heim, and Habitat for Humanity in Berks; and Habitat for Humanity, CATRA, Five Senses Garden, Memorial Lake State Park, and Chasing Rainbows in Dauphin County.
To learn more about Aaron's Acres, visit http://www.aaronsacres.org, or contact Lori B. Donofrio-Galley, Director of Development, at ldg(at)aaronsacres(dot)org or at 717-413-2604.
About Hartman Underhill & Brubaker
Hartman Underhill & Brubaker LLC (HUB) is a full-service, Lancaster, Pa.-based law firm offering comprehensive services throughout Central Pennsylvania in the areas of business, land use, school and municipal, and litigation. Its practice groups include Business Services; Financial Services; Employment, Pension, and Tax; Estate Planning, Succession Planning, and Elder Law; Real Estate, Zoning and Land Use; School and Municipal Law; Litigation; and Family Law.
Established in 1978, HUB has steadily expanded in size, expertise, and depth of experience while enhancing its position as one of the most well-respected and well-positioned law firms in Central Pennsylvania. The firm has offices in Downtown Lancaster and Ephrata, Pa.
HUB's team of 19 attorneys includes partners Michael W. Babic, Thomas W. Bergen, Joshua D. Cohen, Robert M. Frankhouser, Jr., Kevin M. French, Alexander Henderson, III, William C. McCarty, Jeffrey P. Ouellet, Kim R. Smith (managing partner), Mark Stanley, and William J. Zee III; associates Joseph B. Allen, Brandon S. Harter, Kaitlin R. McGinnis, Glen Shikunov, and David M. Walker; and attorneys of counsel Marylou Barton, Mark L. James, and Christopher S. Underhill.
For more information, visit http://www.HUBlaw.com.