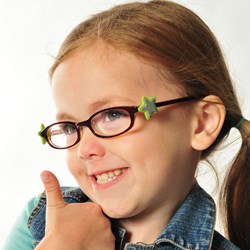 It is very exciting and humbling to share with the world the idea that was inspired by my special needs daughter.
Gilbert, AZ (PRWEB) February 10, 2014
Ros Guerrero, inventor and founder of Ficklets, LLC, is excited to announce that her interchangeable eyewear charms are now available in almost 1,900 Walmart Vision Centers throughout the United States. "Launching in Walmart, the largest retailer in the world, has taken our business to new heights and has given us the tremendous opportunity to reach more kids and share our mission; which is to help eyeglass wearing kids develop a healthy self-esteem, self-image and to embrace eyeglasses by producing fun and whimsical eyewear accessories and optical products," she said.
Inspired by Guerrero's special needs daughter, Ficklets LLC was officially launched in 2007 after months of prototypes, investment and research. A non-provisional patent was granted in 2009 and the company has had continued growth ever since. Walmart has been listening to feedback from the communities they are in and found Ficklets via one of their own associates. The product is sold internationally through global distributors and is now widely available to kids in every part of the country via Walmart.
"It is very exciting and humbling to share with the world the idea that was inspired by my special needs daughter. It's why the business is so near and dear to my heart," Guerrero said. She and her husband are currently the driving force behind the small business, running it with the help of just one employee. Their daughter is set to graduate from high school this spring and the plan is for her to join the family business. "It's one of the main reasons I started Ficklets. I wanted to create a work opportunity for her realizing and understanding early on that her opportunities would be limited," Guerrero acknowledged. "My goal is to have her work with us on a regular basis as we continue to grow the company and expand our product line, distribution outlets and markets."
Guerrero is thrilled to see her hard work and dedication pay off in such a big way. "It feels amazing to achieve a goal that I've worked long and hard for and to see it come to fruition. I'm deeply grateful and humbled to see how people have embraced my idea and to know that it brings a smile to children's faces," she said. "This is what inspires me to continue to grow and evolve Ficklets."
Ficklets are the first patented interchangeable eyewear charms, designed to adorn eyeglasses with a fun, fresh twist to help kids feel comfortable in their glasses and make the whole experience more enjoyable. They were patented in the fall of 2009. Guerrero, the founder and inventor of Ficklets, can be reached for comment at ros(at)ficklets(dot)com or at 877.245.4299.