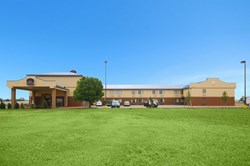 Traveling without budget worries and parking without hassles are the main concerns for travelers today.
Amarillo, TX (PRWEB) February 10, 2014
Greenbee Parking, one of the fastest growing airport parking services in the country, has just announced brand new parking deals for their customers using the Amarillo (AMA) airport. What is remarkable about these new offers is that they allow travelers to completely revise their budgets and enjoy great savings on their parking expenses. Now they can get easy and secure parking options without paying a premium for them, negating their need to wait for Amarillo airport parking coupons to save on these expenses. Their user friendly online interface makes booking easy from any location and at any time, even at the nth hour without incurring late fees of any kind. The rising popularity of the service is a living testament to customer appreciation for their innovative deals which acts as a perfect foil for the rising travel figures in the country.
"Traveling without budget worries and parking without hassles are the main concerns for travelers today," said Christine Cooper – Marketing Coordinator, Greenbee Parking. "Our focus is to come up with a viable solution for our customers, which is the reason we have come up with a series of deals tailored to match different kinds of parking needs. We want our clients to enjoy these exclusive privileges which would be hard to come by even with the premium Amarillo airport parking coupons offered by others in the market."
Rick Husband Amarillo International Airport
The Rick Husband Amarillo International Airport may be a mid-sized airport but is known for its first class operations and premises. It serves parts or Texas and Oklahoma as well as parts of New Mexico which keeps it very busy round the year. Located close to downtown Amarillo and the I-40 it sees even more traffic than is usual for an airport its size and has led to major renovation plans currently. Among the core areas under consideration in this renovation project, parking is one that is getting a lot of attention. There have already been a number of changes introduced making it easy for frequent travelers to use the Amarillo (AMA) airport parking.
Both the airport authorities and private players like Greenbee Parking are keenly focused at improving the parking experience for travelers even more. They are thus working in tandem to come up with more offers which will enable innovative and friendly options to park vehicles, for both short and long durations. Greenbee Parking is focused at making it easy for travelers to choose the spot they want or park even at the nick of time without paying any premium for the service. One can get the luxury of these choices any time they wish and that too without having to resort to Amarillo airport parking coupons to save on expenses.
The Greenbee Airport Parking Solution
Greenbeeparking.com is the connection between consumers and parking vacancies in close proximity to major airports and seaports. The parking spaces are very affordable because the company has negotiated discounted rates with major hotel chains for the parking spaces that are not currently occupied. Here's how it works.
Greenbee Parking puts the available inventory of parking spaces on their website to be reserved by business and leisure travelers looking for cheap airport parking. This alternative method for finding parking equates to significant savings for the traveler. You can learn more about their offers from (http://youtu.be/RWc3dqhugFA) or via the web at (http://www.greenbeeparking.com).
About Greenbee Parking
Greenbee Parking is the nation's most innovative long term parking company, with a new way of making long term parking affordable. The company is rapidly adding new airports to its network.