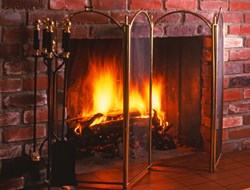 Lincoln, RI (PRWEB) February 05, 2014
A key to preventing fires in your home is safely removing ashes from the fireplace. Amica Insurance advises building small fires that will burn out completely, using screens and doors on fireplaces to control sparks and burning properly seasoned wood to keep your heating system safe.
Fires can start quickly if fireplace ashes are not disposed of carefully and at a safe distance from your home. That's why Amica and the National Fire Prevention Association recommend taking the following steps when discarding ashes:

Remove the ashes with an ash shovel.
Place them in a metal ash container, one with a bottom edge that keeps the base of the container off the floor.
Cover the container and take it outside.
Place the ashes on the ground or on a concrete surface away from flammable materials like leaves or twigs.
Finally, soak the ashes with water and then cover them with dirt.
About Amica Insurance
Amica Mutual Insurance Co., the nation's oldest mutual insurer of automobiles, was founded in 1907. The company, based in Lincoln, R.I., is a national writer of automobile, homeowners, marine and personal umbrella liability insurance. Life coverage is available through Amica Life Insurance Company, a wholly owned subsidiary. Amica employs more than 3,200 people in 40 offices across the country.
CONTACT: Vince Burks, Corporate Communications, 50 Amica Way, Lincoln, RI 02865-1155, 800-652-6422, ext. 24563
Twitter: Amica
Facebook: Amica Mutual Insurance Co.