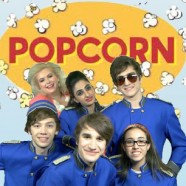 Working with Jessica and Christopher is such a privilege. They bring so much enthusiasm, insight and thoughtfulness to any project they tackle ~John Stevens, Co-Founder of Talent INC Canada
Toronto, ON (PRWEB) April 22, 2014
Popcorn follows the antics of several misfits set in the 1980's, with most of the action taking place in a movie theatre named, The Fox. The action is seen through the eyes of young Steven Spielberg wannabe, Fletcher, played by Justin Toth of Calgary.
With the track record Positive Productions has, it is not surprising that Popcorn has quickly been pushed to the forefront as networks rally to sign the show to their upcoming season line up.
With close to twenty years of industry experience in television series- running, producing, directing, writing and editing, Christopher Greaves, president of Positive Productions Inc. has worked on many award winning documentary, magazine, variety, and reality television series in both Canada and the United States, including CTV's Canadian Idol, Discovery Channel's award winning Forbidden Places, CBC's Hosted Prime and Super Star Chef Challenge for the Food Channel.
Original productions include USA networks multi award winning The Anti Gravity Room on SYFY and YTV and the critically acclaimed INK: Alter Egos Exposed, IFC, SKY, SKY-ARTS UK, which has found dedicated and rabid comic book fans all over the world.
A passion for producing unique programming directed at the tween market has garnered Chris numerous industry awards for original series such as POV Sports, CBC; Planet Echo, APTN; WARP, Gamerz, Dance City, YTV and Behind The Screams a feature documentary on Christina Aguilera.
Chris has worked with many independent production companies and directly for broadcasters with extended contracts at CORUS, CBC and CTV in Canada.
Jessica Wright has created, developed, written and produced factual entertainment, documentary, comedy, children's live action and animated programs as well as shorts and commercials for Canada and the U.S. She brings over 15 years of experience in the television industry to Positive Productions.
Jessica also wrote, directed and produced several promotional campaigns for YTV, including the award winning "U Rule March Break 96" campaign, and "Sasquatch Watch". She also created, and produced the children's science series "The Lab" which aired as part of "The Breakfast Zone."
Her writing credits include a number of animated children's televisions series, such as the award winning "Angela Anaconda", for FOX/USA, YTV AND CBC. as well as"Girl Stuff Boy Stuff" and "Martin Mystery for FOX/USA and YTV"
Positive Productions is a full service multi-platform broadcast content provider. Now in its 5th successful year, Positive Productions Inc continues to grow its roster of high quality productions in both the traditional broadcast market and in multiple digital content platforms. From high concept environmental science kids series to innovative lifestyle, long form documentary and interstitial programming initiatives, Positive Productions continues to produce unique and watchable programming that is currently being sold around the world.