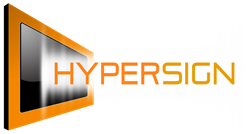 'We are stoked to be working alongside the likes on an industry-powerhouse such as Samsung.' - Mike Whitman
(PRWEB) February 06, 2014
Hypersign will be showcasing its mind-blowing and innovatively simple digital signage solution at this years Digital Signage Expo. Not only will they be in attendance, but they will be partnering with none other than Samsung Electronics America.
Hypersign will present it's explosive new applications Alert and Metrixx, alongside its original award winning software Hypersign, inside of Samsung's SSP booth.
Mike Whitman, Vice president at Hypersign, says "We are stoked to be working alongside the likes of an Industry-powerhouse such as Samsung."
Samsung Electronics America will be at booths 901 and 909, joined with Hypersign. Samsung has a story of success sprawling over 70 years. Leaders in imaginative products and solutions, Samsung has solidified it's spot in the world's greatest companies.
DSE, Digital Signage Expo, is the world's largest digital signage expo. It takes place in the Sands Expo in Las Vegas, Nevada, February 11-13th.
Hypersign Software is an award winning software product development company focusing on building products that improves the lives of people. The Hypersign product is known for its incredibly intuitive interface making it the perfect digital signage solution for education (K12 and higher Ed) and healthcare.