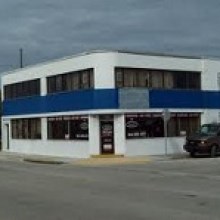 "Our greatest rewards are the genuine customer endorsements for our services."
Fort Lauderdale, FL (PRWEB) February 12, 2014
Greenbee Parking, a rising young airport/seaport parking firm, has received good accolades from travelers using the Port Everglades Seaport (PTE) frequently. The general consensus in the latest Port Everglades Seaport parking reviews is that their deals and offers have greatly expanded the parking scenario here. The reviews also say that they have made it possible for travelers to get secure spots for their vehicles even at the nth hour without having to pay a premium price for them. These and many other innovative deals perfectly combined with the user friendly experience of easy online bookings, make them popular with travelers here.
"Our greatest rewards are the genuine customer endorsements for our services," said Christine Cooper – Marketing Coordinator, Greenbee Parking. "The Port Everglades Seaport parking reviews have been a great motivation for us and we are more focused than ever to come up with more innovative deals to serve our clients better."
Port Everglades Seaport Parking Information
Port Everglades Seaport is one of the busiest and important ports in the country. Located in sunny South Florida, it is a major hub for cruise liners and also one of the most important cargo destinations in the region. Thus, it is not just popular with tourists but also sees a tremendous amount of commercial activity round the year. Increase is business in the recent years have led to over 200,000 jobs and amounted to over $26 billion in direct revenue from the seaport. Authorities are focused at increasing these figures to even healthier numbers which is why they have major renovation plans on the anvil.
Greenbee Parking came into the scene as one of the major private players offering expanded parking deals beyond the regular options. Thus, they are working hand in hand with the authorities to make the traveler experience here even better. Their focused services have been much appreciated in the latest Port Everglades Seaport parking reviews.
The Greenbee Airport Parking Solution
Greenbeeparking.com is the connection between consumers and parking vacancies in close proximity to major airports and seaports. The parking spaces are very affordable because the company has negotiated discounted rates with major hotel chains for the parking spaces that are not currently occupied. Here's how it works.
Greenbee Parking puts the available inventory of parking spaces on their website to be reserved by business and leisure travelers looking for cheap airport parking. This alternative method for finding parking equates to significant savings for the traveler. You can learn more about their offers from (http://youtu.be/RWc3dqhugFA) or via the web at (http://www.greenbeeparking.com).
About Greenbee Parking
Greenbee Parking is the nation's most innovative long term parking company, with a new way of making long term parking affordable. The company is rapidly adding new airports to its network.