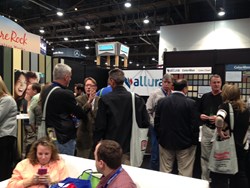 Beauty that lasts means delivering the finest products possible...
(PRWEB) February 06, 2014
Twenty-two color varieties never looked so good. Allura, USA, the newest siding brand to join the plank ranks, made a stunning first impression at the International Builders Show with its "Chill Zone" Booth (# C6928) offering the 6,000+ visitors a VIP sneak peak at the product line. Attendees had to know the secret word to gain entrance behind the velvet ropes to a luxury retreat housing a full-service bar, massage therapy, mystifying entertainment and a slew of handy giveaways sponsored by international consortium, Elementia. Anyone who ventured down the red carpet was witness to Allura's eye catching colors and long-lasting textures.
"Beauty that lasts means delivering the finest products possible and building relationships through our genuine interest in helping our customers succeed," said Jessica L . Navascues, CEO, Fiber Cement Divisions. "Allura is about providing more choices in products and in the marketplace."
Beautiful, natural and made to last, Allura fiber cement siding offers top of the line textures, advanced durability and authentic looking grain. Builders can expect exceptional quality siding with the benefits of attractive color choices or primed and sealed panels that can be painted any color from the rainbow. The flexibility to change colors is limitless with Allura's ample offering of siding and accents.
Allura gives builders freedom of expression with each design panel and encourages its customers to embrace their inner creativity for a new exterior attitude.
About Allura
The Allura brand was launched in 2014 under Elementia, an industry expert for the commercialization and distribution of Fiber Cement Roofing and Siding products in the United States and Canada. As a member of Elementia Group, which has been manufacturing Fiber Cement, Concrete and Metals for the Building Industry for over 75 years, it brings a colorful, quality brand choice to the conglomerate.
Beauty that lasts reflects the quality of Allura's products, loyalty and trust from its partners, and commitment to provide more choices to Allura's customers for the test of time.